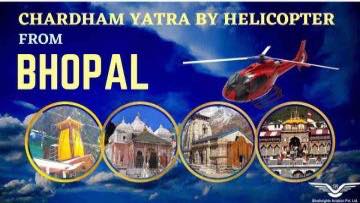 Chardham Yatra Helicopter Tour Packages From Bhopal 2023
Are you Looking for Chardham Yatra By Helicopter from Bhopal (Madhya Pradesh)?
Bhopal is a city of lakes and is known for its natural beauty. Referred to as one of the greenest cities in India, Bhopal also carries the legacy of Indian culture; the city also witnessed numerous devotees coming down to Uttarakhand for Chardham Yatra.
Chota Char Dham is a circuit that runs through the state of Uttarakhand and is considered to be the religious duty of every Hindu. It is firmly believed that the holy journey of Chardham takes you to the path of Moksha (setting you free from the vicious circle of life and death). Hence, It is one of the most popular pilgrimages for Hindus worldwide.
Not just for devotees, the plush beauty of nature also attracts nature lovers and adventure enthusiasts to visit Char Dham. The trekking trails are so beautiful that they attract tourists from across the globe.
The Four Dhams covered under the Chota Char Dham are Yamunotri- Gangotri- Kedarnath - Badrinath.
Itinerary for Chardham Yatra Tour Packages from Bhopal
DAY 1: - Bhopal - Delhi – Dehradun
It is easy to reach Delhi from Bhopal by boarding a train or taking a flight, as there is no direct flight from Bhopal to Dehradun. It is recommended to choose an airway to make your journey convenient and easy. You will board another flight from Delhi to Jolly Grant Airport in Dehradun. You may also hire a private cab or board a bus to Dehradun.
Day 2: - Dehradun to Kharsali
Our trip to Char Dham begins with Yamunotri. In the morning hours, you'll get an excellent breakfast. You'll be geared up for the journey to Dehradun Helipad - Sahastradhara to take off in the helicopter. The helicopter will arrive at Kharsali within 20 minutes. Then, you'll be transported to your lodging.
After lunch, you can visit the Yamunotri Temple to see the hot springs later in the afternoon. Walk through the trek, or hire a pony or palki. You can also visit the Shani temple on the way to coming back to the hotel. When you return, it is time to relax and unwind.
Day 3: - Kharsali to Harsil
The next day, you will dive into the spiritual blessings of Gangotri Dham, a seat for the holy river Ganga. Harsil serves as the helicopter pad to Gangotri Dham. You'll travel to Gangotri temple to celebrate Darshan upon reaching Harsil. While traveling, you'll get to see the vast apple orchards and the stunning beauty of natural beauty of the Himalayan paradise. It takes about 50 minutes to get to The Gangotri Temple by road.
Day 4: - Harsil to Sersi
The day's activities begin with an exquisite breakfast before moving towards Harsil Helipad to get to Sersi Helipad for the Kedarnath darshan. Shuttle flights will take passengers toward Kedarnath Ji. It will take about two hours to get to Kedarnath Ji. Kedarnath Ji is the holy residence of Lord Shiva and is a significant Dham of Chota Char Dham as well.
Day 5: Sersi to Badrinath
The devotees leave for Badrinath after breakfast in Sersi. After the helicopter has landed in Badrinath, devotees are taken to a hotel to check-in. After that, they will be taken from their hotel to the Badrinath temple via car. Mana village is among the most popular tourist spots near Badrinath. Mana village is popularly referred to as India's last town because it is close to China border.
Day 6: Back To Dehradun
After visiting all four Dhams within The region, it's time to return with some beautiful memories. If you've purchased tickets for an event such as Maha Abhishek Puja, or Maha Abhishek Puja, you must be there from 4:30 to 6:30 early in the morning.
After that, you'll be transferred to Dehradun hotel by taxi to collect your luggage at the hotel. A representative from Blueheight Aviation will transfer you to the nearest airport or train station to take you to Delhi. Blueheight aviation can also help you book tickets for flights as well as helicopter charters from Dehradun to Delhi by the client's preferences.
Frequently Asked Questions
Why is Chardham Yatra considered as most Auspicious in Hinduism?
Located in the Garhwal region of Uttarakhand, Chardham is one of the most revered yatras in Hinduism. These four are dedicated to the four most sacred holy rivers as Yamunotri to river the Yamuna, Gangotri to river Ganga, Kedarnath to river Mandakini, and Badrinath to Alaknanda dhams must be visited by every Hindu devotee at least once in their lifetime as their religious duty. It is firmly believed that visiting these Dhams takes them to the path of salvation.
What are the Chardham Essentials I should Take Along?
Considering the weather conditions, here are some of the Chardham essentials that one should take along:
Umbrella and raincoat
First Aid Kit
Water bottle
Medicines – Regular + Antibiotics + Travel Sickness
Winter accessories like woolen caps and gloves,
Toiletries
Binoculars
Trekking Shoes
Mosquito Repellant
Sunglasses etc
Which Mobile Networks Work Best in Uttarakhand?
BSNL and JIO is considered the most reliable mobile network in Uttarakhand and is generally available in all the Dhams. Network like Vodafone and Airtel also works fine. Having SIM from two mobile network operators is recommended before starting yatra. In this case, if one network goes out of range, the backup network can be used in an emergency.
Why Blueheight Aviation is the Best Air Charter Company
For more than ten years, we have offered leading services in the aviation industry and guarantee 100% safety and security. We can customize plans for your Chardham Tour Package 2022 departing from Bhopal to meet your needs and budget. Our complete Chardham Yatra services are designed to give the best service to our guests to ensure a pleasant travel experience.
After you have booked the Char Dham helicopter service, we'll provide the highest quality services to ensure you enjoy a comfortable and lavish experience. To meet the growing requirements of our customers, we have an established track record of providing top helicopter services. Our experts frequently engage with our clients and can offer the best possibility to hire a helicopter in line with their needs at the most affordable cost.
Our fleet comprises 100+ aircraft and helicopters to meet your travel requirements. We ensure the ideal aircraft to meet your needs in the shortest period.
For an unforgettable air charter experience, call BlueHeight Aviation now!
You Might Also Like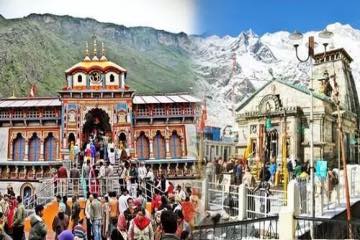 Chardham Tour Package By Helicopter from Bhopal 2023
Your Private Charter Journey Starts Here
Subscribe and we'll send the best deals to you