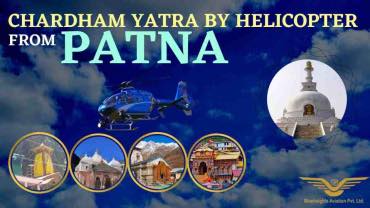 Chardham Yatra By Helicopter From Patna (2023)

Profoundly known by its ancient name Pataliputra, Patna is renowned as the capital of Bihar state in India. Hosting many tourist attractions such as Patna Museum, Buddha Smriti Park, Gandhi Maidan, Takht Sri Harmindar Sahib Ji, etc., Patna witnesses the inflow of several tourists every year for its impeccable offerings.
On the other hand, several tourists visit Uttarakhand to explore the Char Dham Yatra from Patna to attain salvation.
What Is Char Dham Yatra?
The Char Dham Yatra is a spiritual circuit of four major Hindu pilgrimage centers in the Indian state of Uttarakhand. The route begins at Yamunotri, a temple dedicated to Goddess Yamuna, and ends at Badrinath, where Lord Vishnu took his final avatar as Nara Narayan.
Yamunotri, situated at an altitude of 3,293 meters above sea level in the Garhwal district, is considered the gateway to the Char Dham. From here, pilgrims travel via Gangotri, Kedarnath, and finally reach Badrinath.
Gangotri, located at an altitude of 3100 m above sea level in the Greater Himalayan Region, is one of the primary sources of the River Ganges. Gangotri Temple is the highest dedicated temple to the Goddess Ganga.
Badrinath is located in the Chamoli district of Uttarakhand. It is one of the holiest pilgrim centers in India. Situated near the confluence of rivers Alaknanda and Mandakini, it is believed to house the abode of Lord Vishnu.
Kedarnath is located at an altitude of 3583 meters above sea level near Chorabairo glacier. The Kedarnath temple is located on the banks of the Mandakini river.
While you can travel by road, the most popular way to cover the Chardham Yatra is via helicopter. Premium Aviation companies like Blueheight Aviation offer an unparallel Chardham Yatra experience from Patna.
If you are looking for reliable ways to complete Chardham Yatra, Here is a brief itinerary that will guide you about your trip.
Brief Itinerary on Chardham Yatra By helicopter from Patna.
Day 1: From Patna to Dehradun
There are around 12 direct flights available from Patna to Dehradun, but all of them are connecting flights. It takes 5-6 hours to reach Dehradun from Patna via airway. You can also travel via train from Patna to Dehradun, but the journey takes 22 hours and can be very hectic. Once you reach Dehradun, the representative from Blueheights will escort you to the Dehradun hotel for a complimentary overnight stay.
Itinerary at Glance
From Patna to Dehradun
Overnight Stay at Dehradun
Day 2: Dehradun to Yamunotri
This sacred Dham Yatra will start from the Dehradun to Kharsali Helipad (Yamunotri temple). The journey from Kharsali Helipad to the temple can be made by riding on the back of a horse or a Palki. You may also choose to trek just 6 km toward the holy temple. After the Darshan, pilgrims will return to Kharsali to explore its beauty. Overnight stay at Dehradun.
Itinerary at Glance
Flying to Kharsali Helipad
Kharsali Helipad to Yamunotri temple, on the backs of horses, or by Palki
Exploring Kharsali and stay
Day 3: Yamunotri to Gangotri
The next day is scheduled for Darshan at Yamunotri. In the morning, you will board a Helicopter from Kharsali to reach Harshil – the nearest helipad to Gangotri. Head to Gangotri Temple from Harshil helipad via car. It takes 50 minutes to get to the Gangotri Temple by covering a 25km stretch. After Darshan, come back to Harsil to explore its natural beauty. Enjoy a restful sleep at the hotel and gear up for the next day's Yatra.
Itinerary at Glance
From Kharsali towards Harsil Helipad
Harsil towards Gangotri temple via car
Sightseeing and Overnight Stay at Harsil.
Day 4: Gangotri to Kedarnath
The next on the list of Char Dham Yatra is Kedarnath Darshan. You will head to the Sersi helipad to reach Kedarnath. A shuttle flight will take you to Kedarnath after breakfast.
After the Darshan and pooja at Kedarnath Temple, you will be taken to Adi Shankaracharya Samadhi and Bhairo Mandir for Darshan. Then you will board the shuttle flight to return to Sersi. Enlightening darshan of Triyuginarayan Temple is considered the celestial marriage venue of Lord Shiva and Goddess Parvati.
Itinerary at Glance
Sersi to Kedarnath
Darshan at Kedarnath Shrine
A holy visit to Triyuginarayan Temple
Day 5: Kedarnath to Badrinath
Here comes the final destination for Chardham Yatra - Badrinath. It is considered the abode of Lord Vishnu and one of the prominent parts of Do Dham Yatra. Board a helicopter from Sersi to reach Badrinath. After Darshan, enjoy sightseeing at Badrinath. You will enjoy a heritage walk to Mana Village and the Hot Springs at Badrinath Temple.
Itinerary at Glance
From Sersi to Badrinath
Darshan in Badrinath Temple
Sightseeing at Badrinath
Day 6: Back to Dehradun
After covering all four Dhams, it's time to head back to Dehradun. Char Dham Yatra is an eternal experience that every pilgrim must explore to follow a path of salvation. From Sersi Helipad, board the helicopter to reach Shastradhara Helipad.
Once you arrive at Dehradun, collect your luggage from the Dehradun hotel you left at the beginning of the journey. Then head to the airport/ railway station to Patna.
Tour ends with beautiful memories.
Itinerary at Glance
Badrinath to Dehradun via Helicopter
Head back to Patna via train or plain
Frequently Asked Questions
What is the Best and the Safest time to Embark on the holy Chardham Yatra?
The Yatra remains open for only six months, from April to November. It is a safe time to visit Chardham during this time. However, April to June is considered the best time to visit Char Dham, owing to its weather conditions. The weather remains pleasant, and there are barely any chances of unexpected rainfall leading to a temperature drop.
What are the Common Issues that most of the Devotees encounter during Char Dham Yatra?
Traveling to Chardham also takes several challenges. If you are going for Chardham Yatra for the first time, here are the essential considerations that you should consider:
You will not be able to find many medical stores in the region. Ensure to take along all the necessary medication to avoid the last-minute hassle.
Maintain enough cash balance while visiting Chardham, as there is only plenty of ATMs installed.
Take along the woolen clothes sufficiently to combat the chilly evenings at Chardham. The weather here is highly unsusceptible, so you should be well-prepared in advance to avoid any last-minute hassle.
Is Chardham Yatra Safe for Senior Citizens?
Yes, Chardham Yatra by Helicopter is safe for Senior Citizens. It is one of the easiest and the quiet ways to seek blessings at Char Dham.
Are the Hotels Readily Available in Chardham?
You don't need to worry about the separate hotel booking while your trip to Chardham Yatra By Helicopter with Blueheights. We have tie-ups with some of the premier hotels in all the Dhams. Hence, we make all the necessary arrangements to deliver an unparallel Chardham yatra experience.
So, don't wait anymore. Call us now to Book Premium Char Dham Yatra By Helicopter Services.
Why is Blueheight Aviation Best?
Blueheight Aviation has been providing charter services to Uttarakhand since 2010. We have an excellent team of pilots who are well-versed in this region's terrain and weather conditions. Our aircraft are equipped with all modern amenities that ensure your comfort while flying.
We provide our clients with the best possible service at affordable rates. Our flight prices are very reasonable, and we offer great discounts on bookings even during peak seasons.
Your Private Charter Journey Starts Here
Subscribe and we'll send the best deals to you