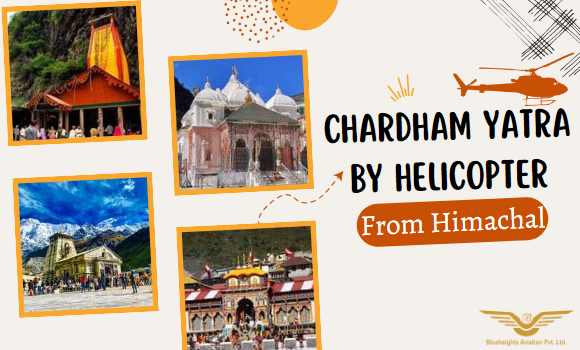 A Stress-Free Journey with Helicopter CHARDHAM YATRA From Himachal Pradesh
Enjoy a truly breathtaking experience with Helicopter CHARDHAM YATRA from Himachal Pradesh. Explore the spiritual beauty of India in a new way, flying over majestic mountains and tranquil temples. Get ready for a journey that will inspire and delight - book your Helicopter CHARDHAM YATRA today!
How to Reach the Starting Point for Helicopter CHARDHAM YATRA?
The starting point of Helicopter CHARDHAM YATRA from Himachal Pradesh is located in Dehradun which is 4-5 hours' drive from Shimla. Guests need to first reach Shimla and then avail a private taxi/cab to Dehardun. Alternatively, the helicopter tour operators have their own vehicles for transporting passengers to the designated point in case required.

Even before boarding the helicopter, guests will already have an incredible experience with traditional Himachali hotels and pristine scenery. Then, after reaching Jalna's helipad, guests will be welcomed by the Tour Operator staff and be briefed about all safety protocols related to the voyage. Once all checks are complete, travelers may finally marvel at the stunning view from air of non-contaminated nature and soaring mountain peaks during their journey.

Is do dham by helicopter from Himachal pradesh also available and price of package ?
Yes, do dham by helicopter from Himachal Pradesh is also available. The package cost depends on the number of rotors and other additional services like sightseeing. You can select the package according to your budget and requirement. The package generally includes helicopter hire, fuel charges, private transfers, accommodation in four star or five star hotels meals and guides accompanying you during the journey.

The package is a blessing for the tourists who want to cover the Chardham tour quickly. This package not only saves your time but also provide more flexibility. During the journey you will be able to experience breathtaking scenery, take pictures and create memories that will last forever. You can also visit various religious sites located between your journey such as Yamunotri , Gangotri, Kedarnath & Badrinath etc to get blessings from lord Shiva and Vishnu. The helicopter tour provides you an amazing aerial view of Himalayas which is once in a lifetime experience!

What Is the Duration of The Helicopter Ride and cost of helicopter package?
The duration of the helicopter ride during Chardham Yatra depends on which package you choose. Typically, a round trip ride for 6 people would take about 2.5 to 3 hours and cost approximately INR 199,000 per person with tour duration of 5 Night and 6 days.

Each helicopter carries a maximum of 6 passengers and the aerial view en route to the Chardham will leave you spell bound. The cost includes accommodations in Kedarnath, Badrinath, Yamunotri & Gangotri with meals, sightseeing tours by local guide, sightseeing transfers by non AC vehicle & helicopter service from Phata or Dehradun to the Chardham. Those looking forward to witnessing the divine beauty of these holy sites from up close should opt for this luxurious and comfortable means of travel as it will surely remain as one of your most treasured memories.
Are There Any Luxury Facilities and Experiences onboard?
Yes! During your Chardham Yatra helicopter ride from Himachal Pradesh, experience unmatched luxury facilities with top-notch comfort during your journey. Enjoy Wi-Fi connectivity, video conferencing, and audio entertainment options like music and podcasts. As most of the flights take place during morning or afternoon time, the breathtaking views surrounding you would leave you feasting your eyes with an ethereal charm. Your Helicopter CHARDHAM YATRA experience is anything but ordinary!

What Sites Will Be Viewed During The Journey? Is Blueheights Aviation best company for chardham Yatra by helicopter ?
When you opt for Helicopter CHARDHAM YATRA from Himachal Pradesh, you will enjoy breathtaking views of the Indian Himalayas including shrines and sacred sites like Kedarnath, Yamunotri, Badrinath, and Gangotri as well as beautiful valleys and mountains. You will also get an opportunity to witness amazing ancient temples and charming hill towns. Blueheights Aviation is the best company for Chardham Yatra by helicopter as its helicopters are handled by experienced professionals with a technical background. The company is highly recommended due to its commitment to customer satisfaction and quality service.

All providing breathtaking views of the stunning Indian Himalayas as you travel to each shrine. During the journey, you will see breathtaking views of meandering rivers, picturesque landscapes, panoramic snow-clad mountains and lush green valleys. Along the way, you will witness amazing ancient temples and charming hill towns like Bhogmukhi Quila in Uttarkashi and Ghastoli near Kedarnath. Blueheights Aviation has an extensive network of chopper operators allowing it to offer cost-effective helicopter packages while ensuring safety and comfort during your Chardham Yatra by helicopter from Himachal Pradesh.
Your Private Charter Journey Starts Here
Subscribe and we'll send the best deals to you