Best Price Guarantee - Chardham Yatra Tour Package From Coimbatore By Helicopter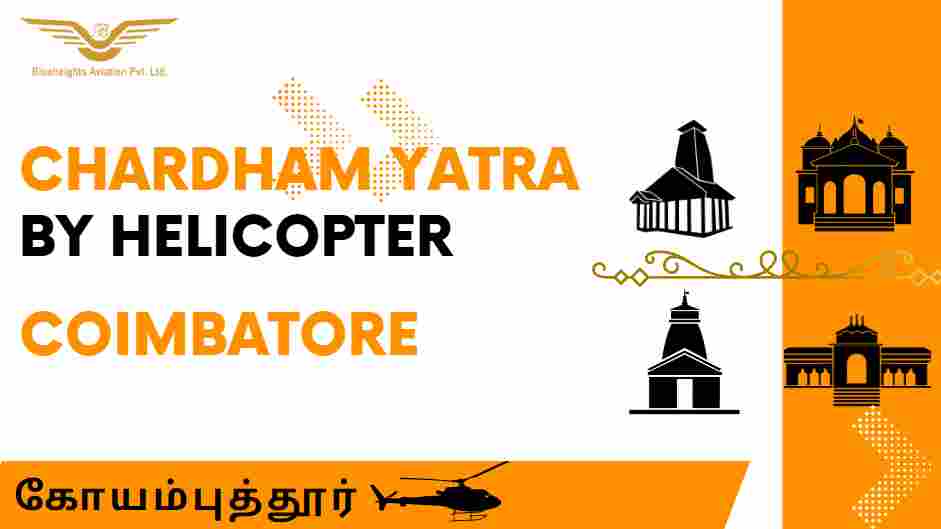 Best Price Guarantee - Chardham Yatra Tour Package From Coimbatore By Helicopter
Are you looking for an unforgettable Chardham Yatra experience from Coimbatore? Then look no further! Our Chardham Yatra tour package from Coimbatore by Helicopter is the perfect choice for a hassle-free and exciting journey through India's holiest sites. Get the best deal with our best price guarantee!
Get Started With Chardham Yatra By Helicopter Packages with Itinerary
Booking your Chardham Yatra by Helicopter package from Coimbatore is easy. Get started by creating an account with us and select the most suitable itinerary for yourself. We offer a variety of customizable packages, with different helicopter tour itineraries to choose from, tailored just for you! With our best price guarantee, you are bound to get the best deal for your budget. So don't wait any longer - book now and start exploring India's most sacred destinations!
Itinerary for chardham Yatra by Helicopter from Coimbatore
Day 1: Coimbatore / Chennai/Delhi
You can travel to Delhi by rail or airplane at your convenience. The aerial distance between Delhi and Chennai is 1756 km, and it takes around 2 hours and 50 minutes to reach Delhi Airport from Chennai Airport.
It is worth noting that there is no direct flight from Chennai to Dehradun. Hence you have to opt for a connecting flight. Once you reach Dehradun, a representative from Blueheight aviation will escort you to check into the hotel for an overnight stay. Relax, rewind yourself after a long haul, and be ready to embark on your holy Char Dham Yatra the next day.
Day 2: Dehradun to Kharsali
Yamunotri, the first of the four Dhams to begin the holy Yatra. You will reach the Sahastradhara Helipad in the morning to head to Kharsali. Kharsali helipad is nearest to Yamunotri temple. There is a trek of around 6 kms from Kharsali to Yamunotri Temple. You may choose to walk or hire a palki or pony to complete the trek. The rest of the day will be at leisure.
Itinerary at Glance
From Shastradhara to Kharsali Helipad
Kharsali to Yamunotri temple
Overnight stay at hotel
Day 3 - Kharsali to Harsil
We will be heading to Gangotri Dham the next day, which is well-known for its origins of holy Ganga. From the Kharsali helipad, you will fly to Harsil Helipad near Gangotri. Check-in at the hotel and head to Gangotri temple for the Darshan of Goddess Ganga. Harsil is a hidden gem of Uttrakhand, known for its serenity and tranquillity. Head back to the hotel to relax and rewind for the next day.
Day 4 - Harsil to Sersi
The following day, wake up in the lap of nature and get ready to fly from Harsil Helipad to reach Sersi for Kedarnath Ji Darshan. Kedarnath is a heavenly abode to Lord Shiva and is counted among the 12 jyotirlingas established by Adi Guru Shankaracharya Ji. It is believed that Bhairon Baba protects the Kedarnath Ji. It is one of the reasons why the devastating flood in 2014 has not touched the Kedarnath temple, although the surrounding region was damaged.
Temple is plushly located in Garwal Region near Mandakini River in Uttarakhand and known for its mesmerizing views. Vasuki Tal Lake, Chopta, Triyuginarayan Temple, Kalimat Almore, and Ukhimath are some places in the vicinity of Kedarnath known for their spiritual blessings.
Day 5 - Sersi and Badrinath
The last Dham to visit under Char Dham is Badrinath. It is the holy abode of Lord Vishnu. Situated in the town of Badrinath in Uttarakhand, it is one of the 108 Divya Desams dedicated to Vishnu's sacred shrines. You will head to Sersi Helipad to reach Badrinath helipad after morning breakfast. Participate in the divine Puja at Badrinath to seek the almighty's blessings.
Tapta Kund, Mana Village, Pandukeshwar, and Vasundhara falls are some prominent places worth visiting.
Day 6: Dehradun
It's time to conclude the Char Dham journey and take along the beautiful memories. From Badrinath, you will fly down to Jolly Grand Airport, Dehradun, and then depart for Chennai. As there is no direct flight to Coimbatore available, you may stop at Dehradun or Delhi before you proceed to Coimbatore.
Chardham Yatra By Helicopter Prices And Offers- Blueheights Aviation
Blueheights Aviation has the best Chardham Yatra by helicopter packages from Coimbatore! We offer unmatched prices, convenience and satisfaction with a variety of customizable tours. Our best price guarantee offers unbeatable deals for your budget. You can rest assured that you are getting the most for what you pay as Blueheights carefully sources prices to bring only the best tour package options to our customers. Make sure to book today and save big on your Chardham Yatra adventure!
| | |
| --- | --- |
| CHARDHAM YATRA PACKAGES | COST PER PERSON |
| Char dham yatra by helicopter ex dehradun | 190,000 |
| Chardham Yatra by helicopter ex Coimbatore | 190,000 + flight |
| Do dham yatra by helicopter Ex dehradun / Haridwar | 95,000- 130,000 |
Request A Quote From Us For The Best Price Guarantee.
At Blueheights Aviation, we're confident that you'll have the best value for your money when you book your Chardham Yatra tour package from Coimbatore by helicopter. We give our customers the assurance with our best price guarantee that they are getting the most competitive rates on their trips. Check out our selection of customizable tours and when you're ready, request a quote from us to get started!
Book Your Package and Enjoy The Best Offer!
When you book your package from us, you can rest assured that you're getting the best offer guaranteed. We compare our rates with multiple sources to make sure we're delivering the best value for your money. With our best price guarantee, you don't have to worry about going anywhere else for your Chardham Yatra tour package from Coimbatore by helicopter. Enjoy the beauty and splendor of India in complete luxury!
Receive Free Travel Insurance With Every Flight Booked With Us.
Get the assurance of safety and security with every flight booked with us. We offer free travel insurance, which includes medical cover, trip cancellation cover, lost or stolen luggage cover and more. Enjoy peace of mind knowing that you're covered no matter what, from the moment you book your package all the way to your safe return.
Your Private Charter Journey Starts Here
Subscribe and we'll send the best deals to you