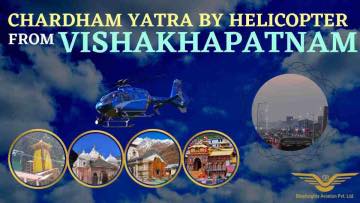 Chardham Yatra By Helicopter From Visakhapatnam (2023)
Located at the heart of Andhra Pradesh, Visakhapatnam is on the radar of tourists for its serene beaches and mesmerizing landscapes. People looking for a perfect coastal vacation often head to Vishakhapatnam to explore the Buddhist Remnant sites. And to continue with their spiritual spirits, people often visit Uttarakhand from Vishakhapatnam to complete their Char Dham Yatra circuit.
Also known as Chota Char Dham, Char Dham Yatra In Uttarakhand is considered a religious duty in Hinduism. It is believed that everyone should visit Chardham at least once in their lifetime to attain moksha.
The high-altitude shrines remain closed for about six months each year, opening in summer (April or May) to close with the onset of winter (around November). Devotees travel to these shrines to pay homage to the deities of the respective places. They believe completing the Char Dham Yatras in a clockwise direction is auspicious, starting from Yamunotri, Gangotri, Badrinath, and Kedarnath.
Chardham Yatra By Road is the traditional and challenging way to complete the trek. Hence, Chardham Yatra By helicopter is the trendy and the easiest way to complete the circuit.
Many premier Aviation companies like Blueheight Aviation offer the elite Chardham Yatra by Helicopter from Vishakhapatnam.
Itinerary for Chardham Yatra By Helicopter
Here is the brief Itinerary for Chardham Yatra By helicopter from Vishakhapatnam:
Day 1: Vishakhapatnam to Dehradun
Vishakhapatnam to Dehradun via road takes 39 hours to reach via Bundelkhand Expressway. There are 13 connecting flights available from Vishakhapatnam to Dehradun that take 5 hours to reach the destination. You can complete the journey in approximately 7-8 hours if you travel by train.
Once you reach Dehradun, a representative from Blueheight aviation will escort you to the hotel for a complimentary overnight stay at Dehradun.
Itinerary At Glance
Arriving at Dehradun
Overnight Stay at Dehradun
Day 2: Dehradun to Yamunotri
The holiest Dham Yatra will start from the Dehradun to Kharsali Helipad (Yamunotri temple). There will be a trek from Kharsali to Yamunotri temple that can be completed via Palki, pony or walk. The total distance between Kahrsali Helipad and Yamunotri temple is around 3.5 kms. After the darshan, the pilgrims return to Kharsali. Enjoy a restful night to get charged for the next day's travel.
Itinerary At Glance
Flying to Kharsali Helipad
Kharsali Helipad to Yamunotri temple by the backs of horses or via Palki
Staying in the hotel for the night and exploring Kharsali.
Day 3: Yamunotri to Gangotri
The group will have breakfast before taking a helicopter from Kharsali to Harsil Helipad. From Harsil, we'll travel by car towards Gangotri temple. The distance is about 30 km. VIP Darshan provides easy entry into the temple. Pandit will perform pooja and other rituals for special occasions. Harsil is a stunning valley surrounded by thick forests and breathtaking mountains. When you travel throughout the valley, visitors can see numerous incredible places admiring the beauty of nature. Remember to take photos that will make your Yatra unforgettable for the rest of your life. Stay for the night and enjoy dinner at Harsil.
Itinerary At Glance
The flight departs from Kharsali to Harsil Helipad
From Harsil towards Gangotri temple via vehicle
Enjoy dinner with your loved ones in Harsil and an overnight stay.
Day 4: Gangotri to Kedarnath
Early morning head to Harsil to reach Sersi helipad. There will be a shuttle flight available from Sersi to reach Kedarnath. You will be taken to Kedarnath temple for Darshan. Then head to Bhairo Mandir and Adi Shankaracharya Samadhi to explore the place's cultural heritage. Then you will be ferried back to Sersi. Mesmerizing sightseeing at Triyuginarayan temple
Itinerary At Glance
Harshil to Sersi
A shuttle flight to Kedarnath Dham
Sightseeing at Sersi
Day 5: Kedarnath to Badrinath
Early morning you will reach Sersi to board a helicopter for Badrinath. You will head for Darshan at Badrinath temple by car. Enjoy the impeccable views of Badrinath hot springs at Badrinath temple. An iconic visit to Mana Village holds high relevance. It is the last village in India lying on the Indo-Tibetan border.
Itinerary At Glance
Sersi to Badrinath
Darshan at Badrinath Temple
Sightseeing at Mana Village
Day 6: Back to Dehradun
After a hearty breakfast, We'll then return to Dehradun. While we travel, we'll enjoy the magnificent landscapes of the region. The stunning landscapes of these confluences offer an opportunity for those in awe of nature's beauty. We fly over breathtaking valleys of thick forest. The flight takes us over five confluences of rivers like Vishnu Prayag, Nanda Prayag, Karna Prayag, Rudra Prayag, and Dev Prayag.
Once you have arrived at Dehradun, you can collect the dropped off your luggage (at the onset of the Yatra). Head to the Dehradun Airport for your next destination.
The tour ends with unforgettable memories.
Itinerary At Glance
Badrinath to Haridwar/Dehradun Drop off
All Chardham Yatra by Helicopter packages would be designed to accommodate passengers and their families. Splitting passengers into groups is not practical to allow for weight changes.
Frequently Asked Questions
What are some common issues one faces during their journey to Chardham?
Due to its high altitude and extreme climatic conditions, the Chardham journey is more challenging than it seems. It would help if you were medically fit to complete the Chardham Yatra. Some of the common issues that many devotees face during Chardham are:
Not Having Enough Cash
There are very limited ATMs in Char Dham destinations, and small shopkeepers and roadside vendors need to be equipped to accept plastic currency. Hence, you must maintain an adequate cash balance to ensure a smooth Yatra.
Inadequate warm clothes
As Char Dham Yatra involves visiting higher altitudes, the temperature at these places drops significantly even in April and May when northern India experiences the summer season. It would help if you carried jackets, shawls, and gloves while visiting Chardham to combat the dropping temperature levels.
Medication
There need to be more medical stores that give you access to various medicines. Hence, you should carry the specific medication you may require during Yatra.
Is the Journey Safe for Senior Citizens?
Yes! Chardham Yatra By Helicopter is safe for senior citizens. It offers unparallel convenience as against trekking and hiking via road journey.
Can I Find Accommodation at Heights Easily?
Blueheight aviation makes all the arrangements for your accommodation, and the Chardham Yatra by Helicopter Packages includes all your hotel stays during the journey.
Why does Blueheight Aviation Offer Best Chardham Yatra By Helicopter Services?
Blueheight Aviation is one of the best helicopter charter companies in India. We provide char Dham yatra by helicopter for all pilgrims and tourists who want to visit Chardham Yatra. Our team will take care of your every need during this journey. You can book our services at any time you want.
We provide char Dham yatra packages according to your budget and requirements. The package includes food, accommodation, transportation, a guide, a driver, fuel charges, etc.
Our team members are well-trained and experienced to handle any situation on the way. They know how to maintain the safety of passengers and crew.
So, what are you waiting for?
Book the Best Chardham Yatra By Helicopter Package from Vishakhapatnam with Blueheight Aviation.
You Might Also Like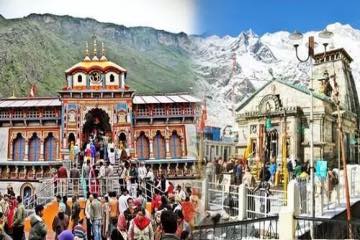 Your Private Charter Journey Starts Here
Subscribe and we'll send the best deals to you