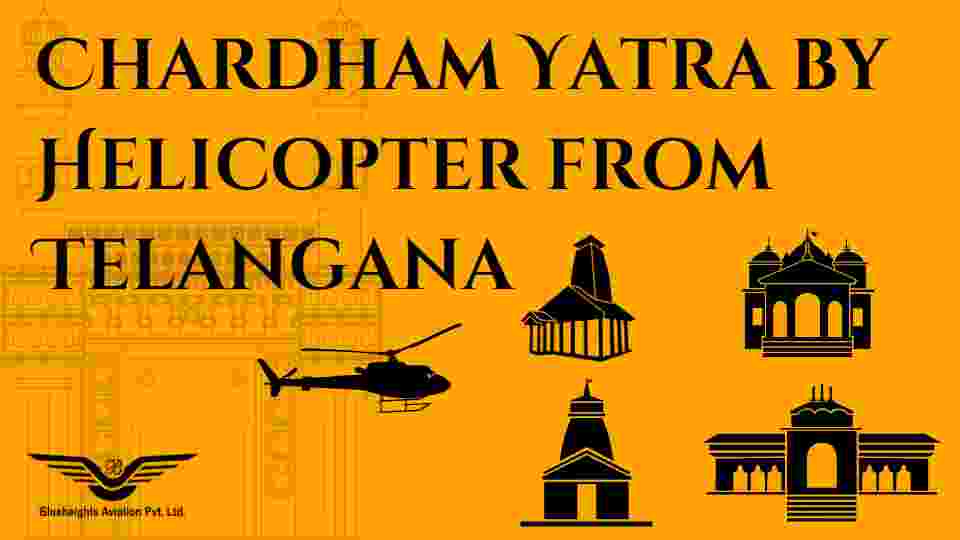 Chardham Yatra By Helicopter From Telangana
Are you looking for an exemplary spiritual experience? Then look no further than the Chardham Yatra by Helicopter from Telangana! This fantastic journey will take you to the holy sites of Badrinath, Kedarnath, Gangotri, and Yamunotri, located in the Char Dham circuit.
Soar through the skies atop a modern helicopter and enjoy breathtaking views of the ancient Himalayan mountains, lush green valleys, and astonishing religious monuments. You will also be able to partake in pooja ceremonies at each location while accumulating invaluable insight into your spirituality.
The Chardham Yatra by Helicopter from Telangana is a once-in-a-lifetime experience that will leave you spiritually enlightened and inspired. You will be able to explore the four sacred sites of Badrinath, Kedarnath, Gangotri, and Yamunotri in just one day, allowing you to make the most of your time.
What is the Significance of the Chardham Yatra?
The Chardham Yatra is a pilgrimage to the four holy sites of Badrinath, Kedarnath, Gangotri, and Yamunotri. It is believed that one can attain moksha or liberation from the cycle of birth and death by undertaking this journey. The Char Dhams are also considered the most sacred places in India and are visited by millions of devotees annually. It is regarded as the religious duty of every Hindu to visit these sites at least once in their lifetime.
The Chardham Yatra by Helicopter is the perfect way to experience this spiritual journey without worrying about the long and arduous trek usually associated with it. So, if you are looking for a unique and unforgettable experience, book your Chardham yatra by Helicopter today!
What are the various Dhams covered in Chardham?
The four dhams covered in the Chardham Yatra are Badrinath, Kedarnath, Gangotri and Yamunotri. Badrinath is located in the Garhwal region of Uttarakhand and is dedicated to Lord Vishnu. Kedarnath is situated in the Rudraprayag district of Uttarakhand and is dedicated to Lord Shiva.
Gangotri is located in the Uttarkashi district of Uttarakhand and is dedicated to Goddess Ganga. Yamunotri is situated in the Uttarkashi district of Uttarakhand and is dedicated to Goddess Yamuna. All four of these sites are considered to be extremely sacred by Hindus.
It is believed that Chardham Yatra must be covered in the clockwise direction from Yamunotri and then moved to Gangotri, Kedarnath, and Badrinath, respectively.
Itinerary by Blueheights Aviation for Chardham Yatra by Helicopter
Day 1: Telangana to Dehradun
The road journey from Telangana to Dehradun takes 26 hours to complete. Similarly, it takes up to 32 hours to reach Dehradun from Assam via train. The trip can be hectic, but at the same time, it is affordable over commercial flights.
The convenient way to travel from Telangana to Dehradun is by commercial airplane. There are daily 22 connecting flights running from Telangana to Dehradun. There is only one direct flight, while the other 21 are indirect flights. Travelling by direct flight takes 2 ½ hours while connecting flights take around 4 ½ hours to reach Dehradun.
Charter flights by Blueheights Aviation are also available to take you from Telangana to Dehradun. It is the easiest and quickest way to reach Dehradun.
Day 2: Dehradun to Yamunotri
The holy journey of Chardham begins with yamunotri – the abode of holy river Yamuna. A representative from Blueheights Avaition will recieve you at Kharsali hotel to take you to the hotel to check in. You will be taken to Yamunotri temple which is 6 kms away. You can choose to trek or hire a pony to reach the temple. After completing the darshan at Yamunotri, you will head back to Kharsali. Shani Temple, Hot springs at Yamunotri temple and Yamuna Mata temple are some of the sightseeing options that are included in our itinerary.
Day 3: Yamunotri to Gangotri
The next destination on your Chardham pilgrimage is Gangotri. It is referred as the holy abode of the river Ganges. You will board helicopter from Kharsali to reach Harsil – nearest helipad to Gangotri. It takes about 50 minutes to drive to the Gangotri Temple to cover a distance of 25 kms. After completing your Darshan and pooja at the temple, you wil head back to harsil for a restful day ahead. A Nature walk from Jhalla/ Mukhwa village is included in our itinerary.
Day 4: Gangotri to Kedarnath
Kedarnath will be the next dham on your list which is said to be the dwelling place of Lord Shiva. You'll set off from the Harsil Helipad in the morning and then take a helicopter to Sersi Helipad. You'll then travel by a shuttle flight to Kedarnath Temple for darshan and pooja. It takes about two hours to complete darshan at the temple. We will also arrange a visit to Triyuginarayan Mandir, which houses Lord Shiva's and Goddess Parvati's divine wedding ceremony. Head back to Sersi to explore its tranquility.
Day 5: Kedarnath to Badrinath
The Chardham pilgrimage concludes with a visit to Badrinath, the sacred city associated with Lord Vishnu. Early morning, you will board a Helicopter from Sersi Helipad to reach Badrinath. Places like hot springs of Badrinath and Mana Village are the part of itinerary to explore the serenity of Badrinath.
Day 6: Return to Dehradun
Once your journey through the four abodes is concluded, you will return to Dehradun. You will board the helicopter from Sersi to reach Shastradhara in Dehradun. An agent from Blueheight Aviation will take you back to the Dehradun's hotel so you can collect your bags. From here, you can decide whether you want to make the journey back to Telangana or, if you want to stay for one night in Dehradun (at an additional cost).
Blueheight Aviation offers tailored Chardham Yatra by Helicopter packages to Yamunotri, Gangotri, Kedarnath, and Badrinath. For those pressed for time, they provide Do Dham Yatra by Helicopter packages composed of Kedarnath and Badrinath Dhams. Hemkund Sahib and the Valley of flowers are two must-sees you can visit.
Why Book Chardham Yatra Packages by Blueheights Aviation?
Blueheights Aviation is one of the leading providers of Chardham Yatra packages by Helicopter from Telangana. We offer a wide range of packages tailored to suit your needs and budget. Our experienced pilots will ensure that you have a safe and comfortable journey while taking in the breathtaking views of the Himalayas.
We also provide all-inclusive packages, which include accommodation, meals, and transportation. So, book your Chardham Yatra package with Blueheights Aviation today and experience the spiritual journey of a lifetime!
Frequently Asked Questions
Is it safe for a solo female traveller to visit Chardham?
Visiting Uttarakhand, aka "Devbhoomi", you can feel safe. It's best to get in touch with a dependable tour operator if necessary since the locals are friendly and helpful. With careful planning and perfect execution, a solo female traveller will have an incredible journey.
Can a child aged 1-7 go on the Chardham Yatra?
Visiting Char Dham with family can be enjoyed while taking extra precautionary measures. Make sure to keep emergency medications, warm clothing, and a raincoat handy when travelling with children. Book your Char Dham tour packages in advance to have a hassle-free trip.
Can people of 60 years or older with decent health complete the Chardham Yatra?
Yes, nowadays it's much simpler to go on thirtha yatra. It can be challenging to reach Yamunotri and Kedarnath, but you can hire Palki for the journey. All other places are fairly close by in terms of transportation.
It is important to note that these are high-altitude locations, so people with respiratory or heart issues should consult their physician before visiting these places.
What items should be packed for a Chardham Yatra pilgrimage?
The Chardham Yatra is considered the toughest journey in the Himalayan region. Thus, one should be physically and mentally prepared before this circuit. The weather of the Char Dham Circuit is quite unpredictable as temperatures can vary drastically during the day- it's hot, pleasant during the evenings, and cold at night.
It is suggested to bring a heavy winter wardrobe, including a warm jacket, coat, sweater, gloves, and woollen socks, as well as good walking shoes with grip. Remember to use a first aid kit, insect repellent, or lotions to avoid mosquito infection while travelling. Carry a raincoat, too, since rainfall here can occur unexpectedly at any time.
When going on a trip to Char Dham Circuit, be sure to bring all your necessary medication, including allergies, diabetes, or asthma. It is also wise to carry a physician's letter and prescription with you in an emergency.
So take advantage of this incredible opportunity and book your trip today!
Join us on an unforgettable journey as we embark on a life-changing expedition to discover yourself and explore nature's true power!
Your Private Charter Journey Starts Here
Subscribe and we'll send the best deals to you