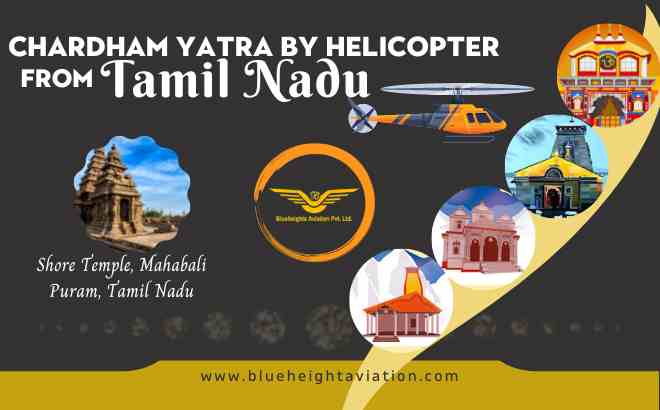 Char Dham Tour Package By Helicopter from Tamil Nadu

Tamil Nadu is a southern Indian state located between Karnataka and Kerala. The state has over 68 million people and is known for its rich culture, heritage, and history. It is the tenth-largest state in India by area and constitutes 87.5% of the Hindu population. It drives the city's population enthusiastically for Chardham - one of the most revered yatras in Hinduism.
What is Chardham Yatra?
Chardham Yatra consists of four main Dhams in Uttrakhand - Yamunotri, Gangotri, Kedarnath, and Badrinath. Popularly known as Chota Chardham, this yatra is sought by every Hindu devotee at least once in their lifetime. These are considered to be the holiest places for Hindus. It is firmly believed that visiting Chardham washes away all the sins and takes the devotees to the path of salvation.
People believe that the Chardham yatra brings them closer to moksha (breaking the vicious circle of life and death). Over the years, the better accessibility of Chardham has made it a popular choice for seeking spiritual blessings and exploring nature's beauty.
You are at the right spot if you seek a soulful journey to Chardham by Helicopter from Tamil Nadu.
Blueheight aviation is one of the pioneer Chardham yatras by helicopter service providers with years of experience providing our clients the best services. We have been serving the pilgrims for the last 12 years, and we are well-equipped with modern technology to provide a safe and comfortable experience during your trip. Our team will take care of everything so you can enjoy your trip without any worries.
We offer customized packages to suit your needs and make the yatra memorable.
Let's check out the itinerary for the Chardham yatra by helicopter from Blueheight Aviation:
Day 1: Tamil Nadu to Dehradun
There are around 13 flights available from Chennai to Dehradun, but all of them are connecting flights. There is no direct flight available from Tamil Nadu to Dehradun. Vistara and Indigo are considered to be the preferred airlines.
You can also opt to travel via train from Chennai to reach Dehradun. The average time taken by train is around 43 hours, while the non-stop flights from Chennai to Dehradun take 4 hours to complete the journey.
The recommended mode of transportation from Tamil Nadu is by airplane, which takes the shortest time and ensures a convenient journey. Once you reach Dehradun, the representative from Blueheight aviation will escort you to the hotel for a complimentary overnight stay.
Program Summary
Tamil Nadu to Dehradun
Overnight Stay at Dehradun
Day 2: Dehradun to Yamunotri
The holiest Chardham Yatra will start from the Dehradun to the Kharsali Helipad, nearest to the Yamunotri temple. The distance between Kharsali Helipad and the Yamunotri temple is about 6 kilometers. It is easily covered by trekking. The service for Palki (or pony) is also available. After darshan, pilgrims will head back to Kharsali.
Visit the beautiful Kharsali at the end of the afternoon following darshan. The restful night's sleep is waiting for the pilgrims to recharge for the following day.
Program Summary:
Traveling towards Kharsali Helipad from Shastradhara
Kharsali Helipad, to Yamunotri temple, via horses or Palki
Hotel stays for the night in Kharsali.
Day 3: Yamunotri to Gangotri
The next Dham on the list will be Yamunotri Dham. It is believed to be the home of Goddess Yamuna. The visitor will take the Helicopter from Kharsali Helipad to reach Harsil. Afterward, you'll take a cab to Yamunotri Temple for Darshan. It takes approximately 560 minutes to reach the Yamunotri temple. After a blissful Darshan, return to Harsil to stroll around its mesmerizing beauty. Relax and unwind in the hotel to rejuvenate.
Program Summary:
Traveling between Kharsali to Harsil
Reaching Gangotri Temple Via Car
Overnight Stay at Harsil
Day 4: Gangotri to Kedarnath
Kedarnath is one of the significant lingas among the 12 primary Jyotirlingas of Shiva. It is also one of the most famous ones among the Panch Kedar temples. You will leave the Harsil early morning to reach Sersi. Shuttle helicopter flights are accessible for Kedarnath. Visit the Kedarnath temple for soulful Darshan and pooja. Enjoy a mesmerizing visit to Bhairo mandir and Adi Shankaracharya Samadhi which hold high significance for their historical and cultural relevance.
The sightseeing experience at Triyuginarayan temple can be a spiritual awakening experience. It is believed that God Shiva, along with Goddess Parvati, was married here,
Program Summary:
Harsil to Sersi Helipad
A shuttle flight from Kedarnath
Darshan at Kedarnath Temple
Visit Triyuginarayan Temple
Day 5: Kedarnath to Badrinath
The final Dham that the Char Dham Yatra Circuit covers are Badrinath. The name of the place for Lord Vishnu also knows it. First thing in the morning, you'll travel towards Sersi Helipad to reach Badrinath. Later in the day, you'll take a journey towards the Badrinath temple to take Darshan. It takes about two hours to finish the Darshan. Go back to Sersi following the Darshan to discover more of the Badrinath surroundings. Mana Village is an exciting adventure located on the Indo-Tibetan Border.
Program Summary:
Sersi to Badrinath Temple
Returning to Sersi
Afternoon Sightseeing at Mana Village
Day 6: Back to Dehradun
The time is now to pack up your bags for the return trip to Dehradun. We'll depart the Sersi early morning and head to the Sahastradhara Helipad. It is possible to stay in Dehradun at your own expense. When you arrive at Dehradun, you can collect your luggage and drop it off (at the start of the yatra). Take the train to Dehradun Airport/Railway Station to continue your journey to Ranchi. Ranchi
Tour ends by bringing you unforgettable moments.
Program Summary
Badrinath to Dehradun
Dehradun to Ranchi
Looking for the best Chardham yatra experience from Tamil Nadu? Call Us Now!
Frequently Asked Questions
Which Dham is to be covered first in Chardham?
Yamunotri is the first dham to be covered in Chardham. Yatra is believed to be taken in a circular path starting from Yamunotri and then proceeding to Gangotri, Kedarnath, and Badrinath, respectively. A fixed sequence of the west to east is followed.
Is it safe to travel to Chardham as a Solo female traveler?
Yes! Chardham Yatra by Helicopter from Blueheight aviation is safe for female solo travelers. We help you with correct planning and execution to make your Chardham yatra a memorable experience.
Can I complete my Chardham Yatra in 1 day?
No, it takes a minimum of 2 days to cover the Do Dham yatra and five days to cover the Chardham yatra conveniently for regular bookings. You may book a private helicopter to complete the Do Dham yatra in one day, but it will be hectic and not recommended.
Can I visit Any Hill Station on Chardham Yatra?
There are many hill stations surrounding Chardham Yatra, which you can visit. But you need to book a customized plan indicating your preferences for all the hill stations you want to visit. Also, it would help if you extended your stay, as your itinerary will be highly customized in this case.
Your Private Charter Journey Starts Here
Subscribe and we'll send the best deals to you