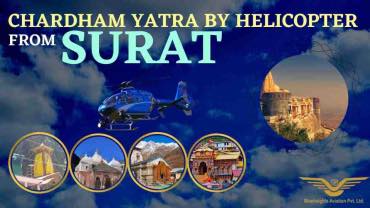 Chardham Yatra By Helicopter From Surat 2023
Famous as the world's largest diamond manufacturing center, Surat has emerged as the leading jewelry production hub. Often referred to as one of the dynamic cities of India, the vibrant people of Surat look up to Uttrakhand to visit the famous Char Dham Yatra every year. This wealthiest city in India has no shortage of devotees looking up for the Best Chardham yatra By helicopter From Surat.
Chardham yatra is one of the most revered pilgrimage sites in Hinduism. Popular as Chota Char Dham Circuit, it covers four main sites - Yamunotri, Gangotri, Badrinath, and Kedarnath.
While Chardham Yatra By Road is hectic for many, Chardham Yatra by Helicopter is the most convenient way to cover all the Dhams in the shortest time. Many premium Aviation companies like Blueheigh Aviation offer the Best Chardham Yatra By Helicopter Packages.
Itinerary for Chardham Yatra By Helicopter
Here is a detailed itinerary for Chardham Yatra By Helicopter from Surat:
Day 1: Surat to Dehradun
There are 19 connecting flights available from Surat to Dehradun takes about 5 hours and 30 minutes to reach Dehradun airport. Many trains are available from Surat to Dehradun that take anywhere between 26 and 36 hours. A road journey via NH48 takes 24 hours to reach Dehradun. Once you reach Dehradun, a representative from Blueheight Aviation will receive you and take you to the hotel for a complimentary overnight stay.
Quick Overview
• Reaching Dehradun
• Staying overnight at a hotel
Day 2: Dehradun to Yamunotri
The holy Char Dham Yatra will start from the Dehradun to Kharsali Helipad (Yamunotri temple). The trip from Kharsali Helipad to the temple can be completed on the backs of horses, the Palki, or trekking. There is a distance of 6 kms between the Helipad and Yamunotri temple. After the Darshan, pilgrims return to Kharsali for a wholesome lunch. A peaceful night's rest is waiting for the pilgrims at Kharsali.
Quick Overview
• Flying to Kharsali Helipad
• From Kharsali Helipad to Yamunotri temple
• Overnight Stay at Kharsali.
Day 3: Yamunotri to Gangotri
The group will have breakfast before taking a helicopter from Kharsali to Harsil Helipad. From Harsil, we'll drive down to Gangotri temple. The distance is about 25 km. VIP Darshan provides easy entry into the temple. Pandit will perform puja and rituals on special occasions in Gangotri temple.
Harsil is a gorgeous valley surrounded by thick forests and snow-clad mountains. Traveling across the valley, you'll see many stunning spots depicting the place's natural beauty.
Quick Overview
From Kharsali to Harsil Helipad
From Harsil towards Gangotri temple via car
Sightseeing at Harsil
Day 4: Gangotri to Kedarnath
Checkout early morning to reach Hersil Helipad to depart for Sersi. From Sersi, you will be ferried to Kedarnath Dham via flight shuttle. After a soulful darshan at Kedarnath temple, the staff at Blueheight aviation will escort you to the Adi Shankaracharya Samadhi and Bhairo Mandir. Head back to Sersi after that.
Evening sightseeing at Triyuginarayan Mandir – the celestial wedding venue of Lord Shiva and Goddess Parvati.
Quick Overview
Harsil to Sersi
Sersi to Kedarnath Temple
Sightseeing at Triyuginarayan Pandit
Day 5: Kedarnath to Badrinath
Early morning, reach Sersi to depart for Badrinath Dham. You will be taken to Badrinath temple for an enlightening Darshan of Badrinath. Following Darshan, the entire group is expected to travel towards Mana Village, the last frontier that connects India with Tibet. Enjoy the trails of Hot springs on your way to Badrinath temple.
Quick Overview
Sersi to Badrinath
Darshan at Badrinath temple
Afternoon Sightseeing at Mana Village
Day 6: Back to Dehradun
After a hearty breakfast, we'll head back to Dehradun. On the way, we'll enjoy the breathtaking landscapes of the region. The spectacular views of these confluences are the perfect feast for those fascinated by nature's beauty. Collect your luggage from the Dehradun Hotel and head to the railway or airport to return to Surat. The Yatra will be a mesmerizing affair leaving behind the imprints of spirituality.
Tour concludes with unforgettable memories. You may choose to stay overnight at your own expense.
Quick Overview
Badrinath to Dehradun Drop off
Why is Chardham Yatra By Helicopter from Blueheight Aviation Best?
Blueheight Aviation, one of India's best helicopter charter companies, has been offering charters to pilgrims and tourists for over a decade. The company provides charters for all types of people who want to visit various religious sites across India. Blueheights aviation provide various other services in Surat like Private jet charter in Surat, air ambulance in Surat , charter helicopter and helicopter for wedding.
Blueheight Aviation has been providing quality services to its clients. We offer charters to individuals, families, groups, corporates, and government agencies. Our team consists of highly experienced pilots and crew members who ensure that your trip with us is safe, comfortable, and memorable.
Frequently Asked Questions
Why Should One opt for Helicopter Serviced for Chardham Yatra?
The trekking and road travel along the Chardham Yatra is highly exhausting. Especially for older adults and people with medical complications, Chardham Yatra by road is a risky and challenging affair.
On the other hand, Chardham Yatra By Helicopter delivers a smooth Yatra experience for everyone. Also, It is the fasted way to complete the Yatra with utmost convenience.
Is it allowed to take a 1-7-year-old child for Chardham Yatra?
Although there is no restriction on the age limit to visit the Chardham Yatra, it is recommended that people age between 7 - 65 years of age should visit Chardham Yatra. If you plan to take along kids under the age of 7, you should make the necessary arrangements to make your yatra a pleasurable experience.
Can We Visit Any Hill Station on Chardham Yatra?
The hill stations like Ranikhet, Auli, and Chopta are near the Char Dham. So, visiting these hill stations will be an exhilarating experience while seeking blessings from the almighty.
If you are looking for affordable Chardham Yatra By helicopter Packages from Surat, call us now!
Your Private Charter Journey Starts Here
Subscribe and we'll send the best deals to you