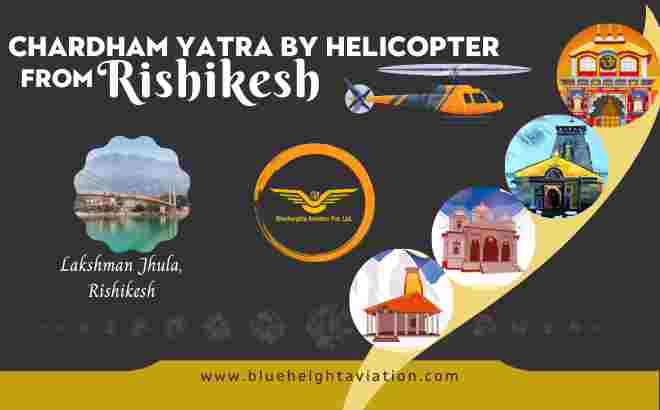 Chardham Yatra By Helicopter from Rishikesh
Rishikesh, located in the northern state of Uttarakhand in India, is known as the "Land of Gods" due to its rich spiritual history and association with Hindu mythology. Rishikesh is located on the holy Ganges bank and is considered a sacred city for Hindus.
Rishikesh is home to several ancient temples and ashrams that attract thousands of devotees and tourists yearly. In addition to its spiritual significance, Rishikesh is also a popular destination for adventure sports such as white water rafting and bungee jumping. It is also a hub for yoga and meditation, with several ashrams and retreats offering courses and workshops in these practices.
Overall, Rishikesh is a unique destination that offers a blend of spirituality, adventure, and relaxation, making it an ideal destination for people seeking a meaningful and rejuvenating experience. Often the people coming to Rishikesh continue their spiritual journey to Chardham in Uttrakhand, one of the most revered pilgrimages for Hindus.
Chardham Yatra By Helicopter From Rishikesh
The Chardham Yatra by helicopter from Rishikesh involves visiting four holy temples in the Himalayas – Yamunotri, Gangotri, Kedarnath, and Badrinath. The journey starts in Rishikesh, where you will take a helicopter ride to the first destination, Yamunotri. After completing the Darshan, you will fly to the next destination on the next day, Gangotri. This process will be repeated for Kedarnath and Badrinath, with overnight stays at each destination.
The Chardham Yatra by helicopter is a convenient and comfortable way to visit the temples. It allows you to avoid the long road journey and the challenges of high altitudes and harsh weather. You can also enjoy breathtaking views of the Himalayan landscape from the helicopter.
It is recommended to book the helicopter tickets in advance and carry necessary documents, such as identity proof and a medical certificate if required. You can customize the itinerary based on your preferences and budget with Blueheights Aviation. The experienced pilots and Crew at Blueheights Aviation follow all necessary safety protocols to ensure an innocuous and enjoyable journey.
Why Consider Blueheights Aviation for Chardham Yatra By Helicopter?
Blueheights Aviation is a leading helicopter services provider for the Chardham Yatra in India. Here are some reasons why Blueheights Aviation is the best choice for your Chardham Yatra by helicopter:
Experience:
Blueheights Aviation has years of experience providing helicopter services for the Chardham Yatra, ensuring a smooth and hassle-free customer experience. With its 360-degree expertise, they are the pioneer in providing air ambulance and private jet services.
Safety:
Safety is a top priority at Blueheights Aviation, and the company follows all necessary safety measures and protocols to ensure the safety of its passengers. With their wide range of experience, Blueheights aviation crew and on-ground staff are highly experienced in tackling any situation.
Reliability:
Blueheights Aviation is known for reliability and punctuality, ensuring you reach your destination on time and without any delays. Unless it is an unforeseen and uncontrollable factor, Blueheights Aviation delivers the best Chardham Yatra experience.
Comfort:
The helicopters used by Blueheights Aviation are modern and well-maintained, offering a comfortable and enjoyable ride to the Chardham temples. The well-trained staff at Blueheights Aviation helps you at every step of your journey to make the most out of your holy trip.
Convenience:
Blueheights Aviation offers comprehensive packages that include hotel stays, transfers, and VIP Darshan facilities, making it easy and convenient for you to plan your Chardham Yatra. You don't need to run around for bookings as our comprehensive packages take care of everything.
Overall, Blueheights Aviation is a reliable and trustworthy choice for your Chardham Yatra by helicopter, offering a safe, comfortable, and convenient experience.
Itinerary for Chardham Yatra by Helicopter from Rishikesh
Here is the brief itinerary Chardham Yatra by Helicopter from Rishikesh by Blueheights Aviation:
Day 1: Rishikesh to Dehradun
It takes an hour to complete the journey from Rishikesh to Dehradun via cab. The distance between the two is 17km. Several trains also connect Rishikesh to Dehradun. The fastest train takes around 1 hr 20mins to reach. There is no airport in Rishikesh.
Day 2: Begin Your Journey in Yamunotri
Start your Chardham journey in the holy city of Yamunotri, where you will pay tribute to the Hindu river Yamuna. In the morning, check out of your hotel in Dehradun and head to the Shastradhara Helipad. From here, you will take a helicopter ride to the Kharsali Helipad in Yamunotri. Our representative will meet you at the helipad and take you to your hotel in Kharsali to check in. After resting, you will visit the beautiful Yamunotri Temple for Darshan. Once you have completed your visit, you can spend the evening exploring the charming town of Kharsali. Enjoy an overnight stay at the hotel.
Day 3: Fly to Gangotri
The next stop on your Chardham journey is the sacred city of Gangotri, home to the Goddess of the Ganges. In the morning, you will depart from the Kharsali Helipad and take a helicopter ride to the Harsil Helipad near Gangotri. You will take a short 50-minute drive to the Gangotri Temple. After completing your Darshan and pooja at the temple, you can spend the evening exploring the picturesque town of Harsil, followed by an overnight at the hotel.
Day 4: Head to Kedarnath
The following destination on your journey is the holy city of Kedarnath. It is believed to be the home of Lord Shiva. You will depart from the Harsil Helipad in the morning and take a helicopter ride to the Sersi Helipad. From here, you will be transferred to the Kedarnath Temple for Darshan and pooja. The entire journey will take about 2 hours. In the evening, you can spend some time exploring the sights of Sersi before overnighting at the hotel.
Day 5: Visit Badrinath
The final destination on your Chardham journey is the holy city of Badrinath, believed to be the residence of Lord Vishnu. You will depart from the Sersi Helipad in the morning and take a helicopter ride to Badrinath. You will have 2 hours to complete the pooja and darshan at Badrinath temple. Explore the Mana Village and Hot springs at Badrinath. Mana village is related to the time of Mahabharata. It is believed that Pandavas passed through the Mana Village before their final journey to heaven. It is also referred to as the last Indian village on India and Tibet/China border.
Day 6: Return to Dehradun
After completing your Chardham journey, it is time to return to Dehradun to conclude your trip. You will depart from Badrinath and take a helicopter ride to the Sharastradhara Helipad in Dehradun. Our representative from Blueheights Aviation will transfer you to your hotel in Dehradun to collect your luggage. From here, you can either return to Rishikesh or choose to stay overnight in Dehradun at an additional cost.
Customized Chardham Yatra by Helicopter Packages is available over places around Yamunotri, Gangotri, Kedarnath, and Badrinath. If you are short of time, you can also consider Do Dham Yatra by Helicopter Packages from Blueheight Aviation. It will cover the Kedarnath Dham and Badrinath Dham. Hemkund Sahib and Valley of flowers are the two major attractions you can also consider visiting.
Places to Visit Near Rishikesh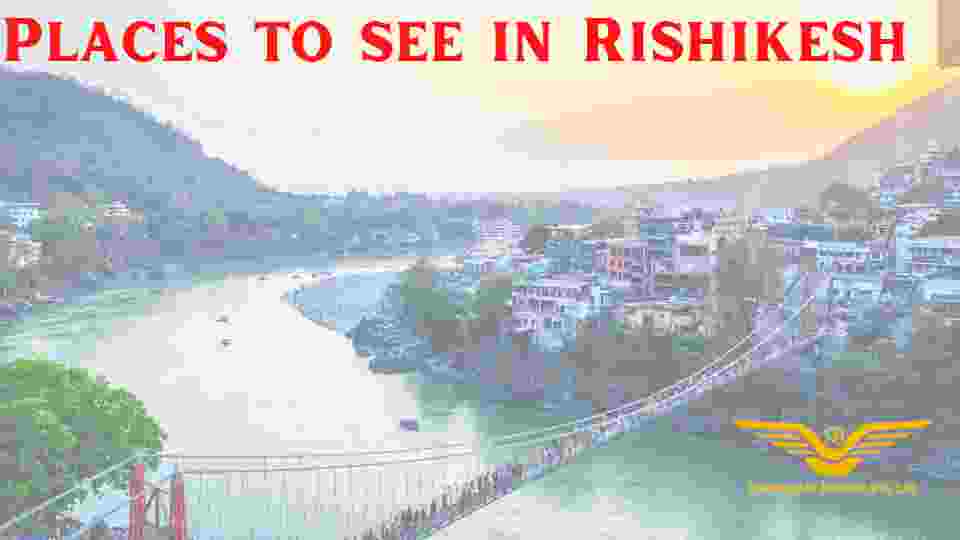 Here are some of the incredible places that one should consider visiting to explore more about Rishikesh:
Triveni Ghat
It is one of the most important ghats in Rishikesh, located at the confluence of the Ganges and Chandrabhaga rivers. It's a popular spot for pilgrims to take a holy dip in the river and perform rituals.
Lakshman Jhula
This iconic suspension bridge is a must-visit attraction in Rishikesh. Spanning 450 feet across the Ganges, it's a great spot to take in the views of the river and surrounding hills.
Neelkanth Mahadev Temple
This ancient temple is dedicated to Lord Shiva and is located atop a hill overlooking the Ganges. It's a popular pilgrimage site for Hindus and an interesting place to explore for travellers. Located around 30 km from Rishikesh, this holy temple is believed to be built at the same spot where Lord Shiva drank the venom 'Halahala' extracted after churning the ocean to obtain the elixir of life.
Beatles Ashram
It is a unique attraction in Rishikesh, as it was once the home of the Beatles during their spiritual journey in India. Today, it's a popular spot for travellers to explore and take part in yoga and meditation classes.
Gita Bhawan
This temple complex is dedicated to Lord Krishna and features an impressive collection of scriptures from Hindu mythology. It is a great place to learn more about Hinduism and its teachings.
Neer Garh Waterfall
The Neer Garh Waterfall is one of Rishikesh's most beautiful and mesmerizing sights. Located just two kilometres from the Laxman Jhula, this waterfall is a must-visit for anyone exploring the city. The view of the cascading water will leave you awestruck and captivated by its eternal beauty. It is also surrounded by some of the best resorts in Rishikesh, making it a great place to take a break from your hectic travels.
Rajaji National Park
Rajaji National Park is a beautiful and unique ecosystem between the Shivalik ranges and the Indo-Gangetic Plains. It is Uttarakhand's second tiger reserve, and its dense forests are home to various animals, such as Bengal Tigers, Sloth bears, and more. Visitors can enjoy activities such as jeep safaris, staying in cottages, or visiting the Sureshwari Devi Temple.
Vashishta Gufa
This cave was once home to the sage Vashishta, who was believed to have meditated here for thousands of years. It's a great spot to explore and take in the spiritual vibes of Rishikesh.
Ganga Aarti
It is one of the most popular attractions in Rishikesh, as it's a nightly ritual performed at Triveni Ghat. It's a beautiful sight and an experience you will remember! These are just some of the best places to visit in Rishikesh.
Ram Jhula:
Ram Jhula is one of the top places to visit in Rishikesh. It is a suspension bridge built in 1980, located a few miles downstream from Laxman Jhula. As you cross this bridge, you will witness the majestic Himalayas peeking out of clouds on clear days and the Ganga River gushing down in the full flow. It makes for an incredibly scenic vista you want to experience when visiting Rishikesh.
Shri Bharat Mandir
Shri Bharat Mandir is one of Rishikesh's oldest and most revered temples. It is dedicated to Lord Hrishikesh Narayan, who is believed to have been worshipped by the Pandavas on their way to heaven. The temple has a rich history and many mythological stories associated with it. For instance, it is said that when Lord Buddha visited the temple, it was converted into a monastery for a few years.
Shivpuri
Shivpuri is one of the most popular places to visit in Rishikesh. It is a hub for river rafting, crowded with people who want to experience this thrilling adventure sport. Whether you're looking for a short 9 km or a long 21 km expedition, Shivpuri has all the necessary equipment and arrangements. For those who want to do it all, 1N/2D camps are available that provide an even more exciting experience.
Jumpin Heights
Jumpin Heights in Rishikesh is one of the best places to visit for adventure seekers. It is the hub of bungee jumping, one of the most daunting yet exhilarating activities. The place has expert instructors and all the necessary gear for bungee jumping, making it a safe and enjoyable experience. Apart from bungee jumping, Jumpin Heights offers flying fox and giant swing activities. All these activities are monitored by experienced professionals who ensure that safety standards are always met.
Parmarth Niketan
Parmarth Niketan is one of India's most renowned spiritual places, located in Rishikesh. Established in 1942, this ashram has grown into a major hub for yoga and meditation. It is a great place to visit if you are an ardent follower of Yoga and looking for a peaceful environment to practice it. The ashram offers various courses on yoga, meditation and other spiritual practices that help people to gain inner peace and enlightenment.
Ragunath Temple
The Raghunath Temple in Rishikesh is a revered temple dedicated to Lord Rama and his wife, Goddess Sita. It is an important religious site for Hindus, and many important ceremonies occur here. The temple is near the Triveni Ghat, one of India's most sacred ghats.
Muni ki Reti
Muni ki Reti is a small town located 6 km from the main city of Rishikesh. It is one of Rishikesh's most popular tourist attractions and is known for its numerous Hindu temples and ashrams. The atmosphere here is peaceful and serene, making it an ideal destination for those looking to escape the hustle and bustle of city life.
Kunjapuri Devi Temple
The Kunjapuri Devi Temple is a popular Hindu temple in Rishikesh, Uttarakhand. It is situated on the top of a small hill, and one has to climb 80 steps to reach it. The temple is considered one of the 52 Shakti Peets. Hence it is quite crowded on weekends, with devotees coming from all over India to pay their respects.
Rishikund
Rishikund is a sacred pond located near the Raghunath Temple in Rishikesh. It is believed to have been blessed by the River Goddess Yamuna and is known as the 'pond for rishis'. The pond's tranquil waters reflect the temple's entrance tower, making it a very peaceful and calming place to spend some time in.
Omkarananda Ashram
The Omkarananda Ashram is a spiritual retreat on the banks of the holy River Ganga in Rishikesh. Established over 50 years ago, this ashram provides a peaceful and serene atmosphere for visitors to experience spiritual enlightenment.
Sivananda Ashram
Sivananda Ashram is a renowned Yoga centre located in Rishikesh, India. It is situated about 3 km from the city and has become a popular destination for people looking to deepen their yoga practice. The ashram offers various courses and programs conducted by experienced gurus who have been practising yoga for many years.
Byasi
Byasi is a small village located about 30 km from Rishikesh, India. It is a great destination for adventure lovers who want to experience the thrill of camping, river rafting and boating. The village has many restaurants and homestays that offer comfortable accommodations for visitors.
Kaudiyala
Kaudiyala is a small town located on the banks of the Ganga, 40 km away from Rishikesh. It has become a popular destination for adventure seekers and campers due to its stunning natural beauty and proximity to the holy city. The white sands of Kaudiyala add to its charm, making it an ideal spot for camping and other outdoor activities.
Tera Manzil Temple
Tera Manzil Temple is a thirteen-storeyed temple located on the Ganga river banks in Rishikesh. It is also known as the Trimbakeshwar Temple and is home to various gods and goddesses under one roof. This temple is a popular tourist destination for its breathtaking view of the city from its thirteenth floor. The temple can be visited anytime between 6 am to 7 pm, with no entry fee.
Mohan Chatti
Mohan Chatti, located in Rishikesh, is a popular destination for adventure enthusiasts. It offers three exciting activities: Bungee Jumping, Giant Swing and Flying Fox. All these activities can be enjoyed from India's first fixed platform at 83m. The experience of these activities will surely be an unforgettable one for you.
Whether you're looking for adventure, spiritual enlightenment, or a peaceful getaway, this city has something for everyone. So make sure to add these attractions to your itinerary and enjoy the beauty and culture of Rishikesh!
FAQ on Chardham Yatra By Helicopter From Rishikesh
Is Char Dham Yatra Difficult?
The conventional Char Dham Yatra by road was difficult as it used to be an arduous trek and a long journey by car. But Char Dham Yatra by Helicopter is easy and convenient. Older adults and children can easily complete it due to its unparallel convenience.
Which Char Dham To Visit first?
Chardham Yatra begins from Yamunotri. It is believed that you should complete the Chardham Yatra in a clockwise direction. Starting from Yamunotri, you will proceed to Gangotri and then to Kedarnath, and finally to Badrinath.
How Do I Plan a Trip to Chardham?
Connect with Blueheights Aviation to help you assist with a smooth Chardham Yatra experience. You can call us 09999506969, 09650578989 or send us a mail chardham@blueheightaviation.com , detailing your requirements. We will get back to you with a highly customized Char Dham Yatra By helicopter package from Rishikesh that will suit your preferences.
Will I get the VIP Dharshan for Chardham?
Yes! The exclusive packages for Chardham Yatra by Helicopter from Blueheights Aviation include the VIP darshan at all the Dhams to let you skip the long queues and have the darshan conveniently.
Is sightseeing included in Blueheights Aviation's Chardham Yatra Itinerary?
Yes! Depending on the time available, we also arrange sightseeing for the nearby places. At Yamunotri, you can explore the Hot Springs, Shani temple and Yamuna Mata Temple. At Gangotri, you will explore the Short trek to Chholmi, a Bagodi village walk and darshan at the shiv temple in Harsil. Triyuginarayan Mandir is a sightseeing attraction worth exploring after darshan at Kedarnath.
After completing the darshan at Badrinath, you will have the opportunity to explore Mana Village. All these sightseeing options are included in the Blueheights Aviation Chardham Yatra by helicopter itinerary.
How To Reach to Yamuntori (2022): [Step By Step] Guide
Weather in Yamuntori: What is the Best Time To Do Yatra
Yamuntori Latest Distance Chart: You Need to Know for Tour
Yamuntori Travel Guide: First Detailed Guide on the Internet
Your Private Charter Journey Starts Here
Subscribe and we'll send the best deals to you