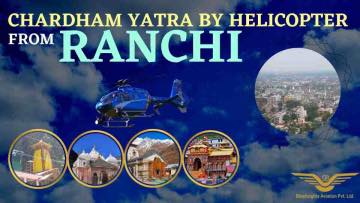 Chardham Yatra From Ranchi by Helicopter (2023)

From its breathtaking waterfalls to picturesque natural beauty, Ranchi is a well-known city in Chota Nagpur Plateau that attracts tourists for its plush offerings. Seasonal trekkers love to explore the city for its impressive trekking trails. Also known as the city of Waterfalls and Lakes, the mix of cultures primarily influences Ranchi. The town has imprints from Buddhism, Jainism, Hindu Kings, and Mughals.
It is one of the reasons why the city is also a spot for devotees to explore the spiritual blessings at Pahari Mandir and Sun temple. Also, many Hindu Devotees visit Uttrakhand from Ranchi to cover Char Dham Yatra, considered the most pious Yatra in Hinduism.
Among the numerous religious sites and circuits that devout Hindus visit in Uttarakhand during the Char Dham Yatras, one of the most important is the Char Dham Circuit Tour. This circuit includes the four sacred places of Yamunotri, Ganga, Kedarnath, and Badrinath.
In Hindi, "char" means four, and "Dham" refers to religious destinations. These four significant shrines remain open from April to November only.
While the traditional way of Char Dham yatra enroute Road, the modern way of covering the Chardham Yatra is by Helicopter. It is the shortest and the easiest way to cover Chardham Yatra.
Itinerary Chardham Yatra By Helicopter
Here is the brief itinerary for Chardham Yatra By helicopter from BlueHeight Aviation
Day 1: Ranchi to Dehradun
Although there are no direct flights from Ranchi to Dehradun, there are ten connecting flights you can avail of from Ranchi to Dehradun. It takes approximately 5 hours to reach Dehradun from Ranchi via airplane. Traveling via train takes one day and 5 hours to reach Dehradun from Ranchi, which can be hectic.
Traveling by road takes almost similar time as taking by a train journey. Once you reach Dehradun, our representative will take you to the Hotel for a complimentary stay at Dehradun.
Program Summary:
From Ranchi to Dehradun
Stay at Dehradun
Day 2: Dehradun to Yamunotri
The most revered Dham Yatra will start from the Dehradun to Kharsali Helipad (Yamunotri temple). The distance between the Kharsali Helipad and the Yamunotri temple is around 6 kms. You can easily cover by trek. The facility of Palki or pony is also available at an additional charge. After the darshan, pilgrims return to Kharsali. Explore the beauty of Kharsali in the late afternoon after darshan. A restful night's sleep awaits for the pilgrims to rejuvenate for the next day.
Program Summary:
Flying to Kharsali Helipad from Shastradhara
Kharsali Helipad, to Yamunotri temple on horses or via Palki
Staying in the hotel overnight at Kharsali.
Day 3: Yamunotri to Gangotri
The next Dham to be covered in the Yatra is Yamunotri. It is considered the seat of Goddess Yamuna. The guest will board the Helicopter from Kharsali Helipad to reach Harsil. Afterward, you will board a car to Yamunotri Temple for Darshan. After a soulful Darshan, head back to Harsil to explore its serene beauty. A peaceful night stay at the hotel to rejuvenate.
Program Summary:
Traveling from Kharsali to Harshil
Reaching Gangotri Temple Via Car
Overnight Stay at Harshil
Day 4: Gangotri to Kedarnath
Kedarnath is one of the 12 Jyotirlingas and is most prominent among the Panch Kedar temples. You will leave the Harshil to reach the Sersi helipad. A shuttle helicopter flight is available for Kedarnath. Head to the Kedarnath temple for Darshan. You will be escorted to Bhairo mandir and Adi Shankaracharya Samadhi for Darshan.
Sightseeing at Triyuginarayan temple is soul-awakening. It is believed that Lord Shiva and Goddess Parvati were married here.
Program Summary:
Harsil to Sersi helipad
A shuttle flight to Kedarnath
Darshan at Kedarnath Temple
Visit Triyuginarayan Temple
Day 5: Kedarnath to Badrinath
The last Dham to be covered under Char Dham Yatra Circuit is Badrinath. It is referred to as the seat of Lord Vishnu. Early in the morning, you will head to Sersi Helipad to reach Badrinath. In the afternoon, you will lead to the Badrinath temple for Darshan. It takes approximately 2 hours to complete the Darshan. Head back to Sersi after Darshan to explore the Badrinath surroundings. Mana Village is an exciting exploration located on the Indo-Tibetan Border.
Program Summary:
Sersi to Badrinath Temple
Returning to Sersi
Afternoon Sightseeing at Mana Village
Day 6: Back to Dehradun
Time to pack your bags to head back to Dehradun. We will leave the Sersi early morning to reach the Sahastradhara helipad. You may choose to stay at Dehradun at your expense. Once you have arrived at Dehradun, you can collect your dropped-off luggage (at the beginning of the yatra). Head to Dehradun Airport/Railway station for your next destination - Ranchi
Tour concludes with unforgettable memories.
Program Summary
Badrinath to Dehradun
Dehradun to Ranchi
Frequently Asked Questions
How to Plan the Chardham Yatra?
Decide the dates you plan to visit and the number of members interested in the Chardham Yatra. Connect with premium aviation services like Blueheight Aviation to get all the necessary arrangements done to make your Chardham Yatra an exemplary affair.
How Long is the Kedarnath & Yamunotri Trek?
While the Kedarnath trek is 17 kms long, the Yamunotri trek is around 3.5 kms from the Kharsali Helipad.
Is it Safe to Travel as the Solo Female Traveller for Char Dham?
Yes, Uttrakhand is highly safe to travel by Solo Female travelers. At Blueheight aviation, we take immense care for your safety to deliver an unparalleled Yatra experience. BlueHeight aviation makes all the end-to-end arrangements to make your Chardham Yatra a blissful affair.
Can We Visit Any Hill Station near Chardham?
Popular hill stations like Ranikhet, Auli, Niti Valley, Chopta, etc., are available near the Chardham Yatra. But to visit these hill stations, you must plan your itinerary accordingly. According to the itinerary given above, it takes 5 Days to complete the Darshan of all four Hindu Shrines. And there is no scope to visit any Hill station due to the limited time for the yatra.
Why is Chardham Yatra By Helicopter Best from Blueheight Aviation?
Blueheight Aviation has provided helicopter services for Char Dham Yatra for the last ten years. We are the best chopper service provider in Uttarakhand and Himachal Pradesh. Our team of experienced pilots, engineers, and technicians has made us one of India's most trusted chopper service providers.
We provide a wide range of helicopter services like air ambulance, sightseeing, corporate travel, wedding reception, event management, etc.
We offer customized char Dham yatra packages that suit your budget and requirements. Our elite Chardham Yatra Tour packages have served more than 1000 happy customers.
So What are you waiting for? Call us Now for A Soulful Journey to Chardham!
You Might Also Like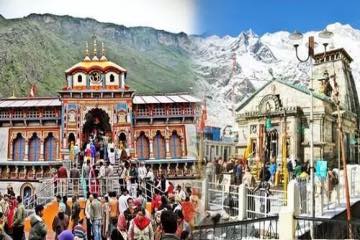 2N3D Helicopter Tour Package
110,000/ pax for charter

5N6D Helicopter Package
199,000/ pax for charter

Same Day Return
100,000/pax for charter

Same Day
85,000/pax for charter
Your Private Charter Journey Starts Here
Subscribe and we'll send the best deals to you