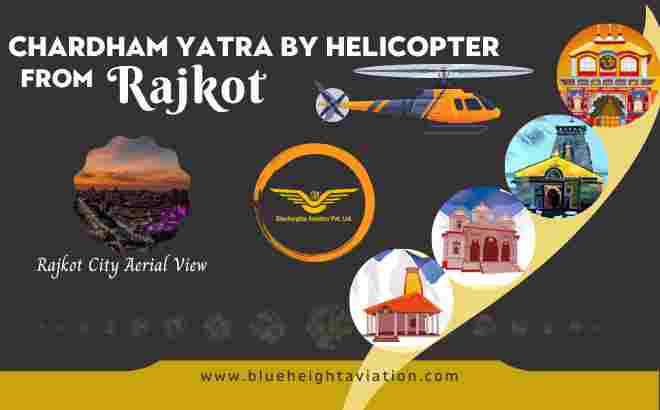 Char Dham Tour Package By Helicopter from Rajkot (2023)
Rajkot city in Gujrat has always been the center of attraction for its immaculate attractions and excellent connectivity to Uttrakhand for the Chardham Yatra. Many poets mention Rajkot as the fourth largest city in Gujrat and the land of god. Filled with stunning gardens, temples, ashrams, and lakes, people across India travel to Rajkot to unveil its religious and cultural offerings.
If you are looking for a trip from Rajkot to Chardham in Uttrakhand, you are in the right spot.
What is Chardham Yatra in Rajkot?
The word 'Chardham' means four pilgrimage sites in Uttarakhand. Popularly known as Chota Chardham, it is a famous circuit in Uttrakhand, including Gangotri, Yamunotri, Kedarnath, and Badrinath.
It is firmly believed in Hinduism that Chardham takes you to the path of Salvation. If you are a Hindu, it is your religious duty to visit Chardham at least once in your lifetime. So, let's check out what it takes to visit Chardham yatra and how Blueheight aviation makes it the most convenient deal for you!
Chardham Yatra By Helicopter:
While the traditional way of Chardham Yatra is by road, Chardham Yatra by Helicopter is the best way to cover Chardham hassle-free. Blueheight Aviation is one of the leading air aviation services offering the most competitive Chardham Yatra by Helicopter packages from Rajkot.
With over 15 years of industry experience, our all-inclusive package for Chardham Yatra includes the hotel stay and transfers to make your trip most convenient.
Let's check out the itinerary for Chardham Yatra by Helicopter by Blueheight Aviation:
Day 1: From Rajkot to Dehradun
It is worth noting that irrespective of the city from where you are seeking your Chardham yatra, Dehradun is the first place that you need to reach to begin your yatra. There is no direct flight connecting Rajkot to Dehradun. But there are eight connecting flights that you can avail of to reach Dehradun.
Both the cities are well connected with the train network as well. But it takes approximately one day to reach Dehradun from Rajkot via train.
Rajkot to Dehradun can be covered by road via NH 48, and it takes approximately 25 hours to complete the distance. Among all the modes of transport, the aerial journey is the most convenient and time-saving.
Once you reach Dehradun, a Blueheight representative will escort you to the hotel for a complimentary overnight stay.
Itinerary at Glance
Traveling from Rajkot to Dehradun
Complimentary overnight stay at Dehradun
Day 2: Dehradun to Yamunotri
This holy Dham Yatra will start from the Dehradun to Kharsali Helipad (Yamunotri temple). Early Morning you will reach the Sahastradhara helipad in Dehradun to fly to Kharsali (the nearest Helipad to Yamunotri).
The trek between Kharsali Helipad to the temple can be accomplished via Palki or Pony. You can also walk 6 km toward the Yamunotri temple, depending on your preference. Following the darshan, the pilgrims will return to Kharsali to discover its splendor. Stay for the night in Dehradun.
Itinerary at Glance
Flying to Kharsali Helipad
Kharsali Helipad to Yamunotri temple on the backs of horses or via Palki
Staying and exploring Kharsali
Day 3: Yamunotri to Gangotri
The following day is scheduled for Darshan in Yamunotri. You will depart from Kharsali early to arrive at Harsil, the closest Helipad to Gangotri. It takes approximately 50 minutes to reach Gangotri Temple by covering a 25km stretch via cab. After darshan at the temple, return to Harsil to discover its natural beauty. Head back to the hotel to rest and gear up for the next day.
Itinerary at Glance
Starting from Kharsali to Harsil Helipad
Harsil towards Gangotri temple via car
Sightseeing and Overnight Stay at Harsil.
Day 4: Gangotri to Kedarnath
The next destination in Char Dham Yatra is Kedarnath Darshan. Early in the morning reaches the Sersi helipad to fly to Kedarnath. A shuttle service will take you to the Kedarnath temple.
Following the darshan and the pooja in the Kedarnath Temple, you will be transferred by bus to Adi Shankaracharya Samadhi and Bhairo Mandir as a part of sightseeing. After that, you embark on the shuttle flight for the return journey to Sersi. Enjoy a soulful journey at Triyuginarayan Temple, considered the most sacred wedding venue for Lord Shiva and Goddess Parvati.
Itinerary at Glance
Sersi to Kedarnath
Darshan at Kedarnath Shrine
A holy pilgrimage to the Triyuginarayan Temple
Day 5: Kedarnath to Badrinath
The final location for Chardham Yatra is Badrinath. It is considered the abode of Lord Vishnu and is one of the most critical places in the Do Dham Yatra. You will board the helicopter from Sersi to get to Badrinath. After darshan, you can enjoy a sightseeing tour at Badrinath. It is a great place to enjoy a heritage trek through Mana Village and the nearby Hot Springs.
Itinerary at Glance
From Sersi to Badrinath
Darshan in Badrinath Temple
Sightseeing at Badrinath
Day 6: Back to Dehradun
After completing the darshan at all four Dhams, it's time to return to Dehradun. Char Dham Yatra is an excellent spiritual experience that any pilgrim must go through to find the path to salvation. From Sersi Helipad, board the helicopter to get to Shastradhara Helipad in Dehradun.
Once you reach Dehradun, you can collect your luggage in the Dehradun hotel you left at the beginning of your journey. You may stay at your own expense overnight at Dehradun or head back to Rajkot at your convenience.
Tour ends with unforgettable memories.
Itinerary at Glance
Badrinath to Dehradun via Helicopter
Return to Rajkot by train or on plane
Frequently Asked Questions
What is the Best Time for Chardham Yatra?
The Yatra is open only for six months, from April through November. It's an excellent time to visit Chardham during this period. However, April through June is considered the best time to travel to Char Dham due to the weather conditions. The weather is generally pleasant, and there isn't any chance of rainstorms that could lead to a decrease in temperature.
Which are common issues that devotees face in Char Dham Yatra?
Going to Chardham has a lot of challenges to face. If you're planning to go on Chardham Yatra for the first time, here are some essential things to take into consideration:
You will need help locating many pharmacies within the region. Make sure to bring all medications required to avoid any last-minute hassle.
Make sure you have enough cash when traveling to Chardham since there are only a few ATMs.
Wear woolen clothes enough to withstand the cold evenings in Chardham.
The weather here is resistant to change, so it is essential to be well-prepared ahead of time to avoid the last-minute hassle.
Take along the essentials, such as a raincoat, umbrella, torch, and sanitizer, to ease you with your Chardham journey.
How Long is Kedarnath and Yamunotri Trek?
The Kedarnath trek starts from Gaurikund and is 17 km long. On the other hand, the Yamunotri trek is just 6 km long and begins with Jankichatti.
Can I Take Along a Child Under 6 years of age to Chardham?
Chardham Yatra By Helicopter is convenient for kids under six years and the elderly. If you are considering traveling by road, you should reconsider your decision because Chardham Yatra is a remote pilgrim with fewer facilities.
Can I Complete Chardham Yatra By My Car?
You must have good experience in driving on the Hills if you are planning to complete Chardham Yatra in your car. It will be a long and tiring journey and take 10-12 days. At the same time, Chardham Yatra by Helicopter is 5 days 6 night soulful sojourn that lets to escape the rough roads of Chardham.
If you are new to driving, you must hire an experienced driver or car rentals for a safer Chardham Yatra.
Key Takeaway
Chardham Yatra is one of the pious yatras in Hinduism. This pilgrimage is considered the most arduous of all the four yatras. This makes it necessary to prepare for the harsh climate before embarking on this holy journey.
Blueheight Aviation is your best option to reach your destination safely and comfortably. We provide our services at affordable prices and offer great deals for our customers. Our team of experts will help you plan your trip to make the most out of it.
You Might Also Like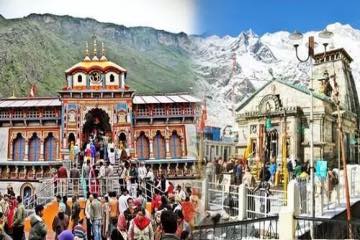 2N3D Helicopter Tour Package
120,000/ pax for charter

5N6D Helicopter Package
190,000/ pax from Dehardun

Same Day Return
100,000/pax for charter

Same Day
85,000/pax for charter
Your Private Charter Journey Starts Here
Subscribe and we'll send the best deals to you