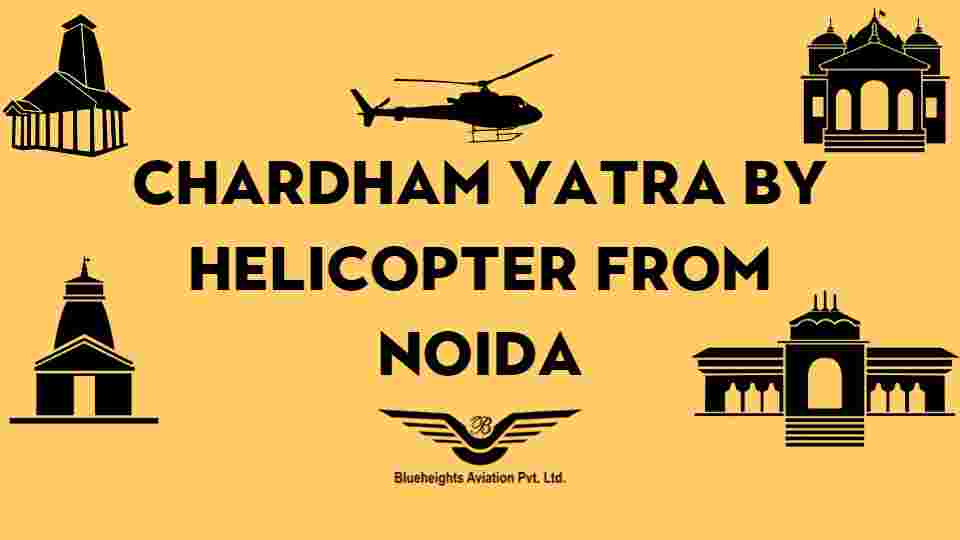 Chardham Yatra By helicopter from Noida
Noida has become a popular destination for tourists who want to explore India's culture and serenity. Hinduism is the predominant religion in Noida, with 86.86% followers, and the city is home to many temples and shrines.
In particular, many are turning their attention to Chardham Yatra, one of India's most revered pilgrimage tours at which lakhs of followers gather annually. But could taking a helicopter be the best way to experience this pious journey?
What is Chardham Yatra?
Chardham Yatra is an important Hindu pilgrimage tradition in India that has been carried out for centuries. It includes visits to the four great holy sites: Badrinath, Kedarnath, Gangotri and Yamunotri. Every year, people from all over the world travel to these places to practice spiritualism and gain a sense of bliss.
Many people take buses or trains while travelling on the Chardham Yatra route, but what if there was an easier way? Taking a ride in a helicopter! Noida now offers this fantastic opportunity, allowing devotees to float through clouds and see all four sacred sites without spending too much time on the road.
Why is Chardham Yatra By Helicopter Best?
If you are planning your next Chardham Yatra trip from Noida, consider taking it by helicopter! Benefits of Taking a Helicopter Ride:
1. Time-Saving: Taking a helicopter ride to Chardham Yatra from Noida is the fastest way to reach your destination. It will save you time and energy, allowing you to make the most of your pilgrimage experience.
2. Comfort: Helicopters provide a comfortable journey taking you from one place to another in the shortest time. You can also enjoy the breathtaking views of the Himalayas from a bird's eye view.
3. Convenience: Taking a helicopter ride to Chardham Yatra from Noida is the most convenient way to travel. You don't have to worry about long queues, traffic jams or other hassles that come with taking public transport.
4. Safety: Taking a helicopter ride to Chardham Yatra from Noida is the safest way to travel. The experienced pilots and modern aircraft ensure that you have a safe and secure journey.
So, if you plan your next Chardham Yatra trip from Noida, consider taking a helicopter ride for an unforgettable experience!
Why is Blueheights Aviation Best in Class?
Blueheights Aviation is the pioneer air charter service providers in India with diverse range of experience in the private jet charter, air ambulance and helicopter services for Chardham yatra, Do dham yatra by Helicopter and Ek Dham yatra by Helicopter. With their experienced pilots and modern aircraft, you can be sure your journey will be safe and comfortable.
Blueheights Aviation also offers competitive rates for its services, making them an ideal choice for those looking to experience Chardham Yatra. With over 10 years of experience, Blueheights Aviation offers the most comprehensive Chardham yatra by helicopter packages.
If you are looking for a reliable and affordable Chardham Yatra experience, Blueheights Aviation is a perfect choice!
Frequently Asked Questions
Q. What essentials should I carry with me during my helicopter flight?
A. You should carry your valid ID proof, warm clothes, a raincoat, 2-3 pairs of socks, a handy torch, a First-aid box, and moisturizing cream as essentials for your Chardham yatra. You should also carry some snacks and water with you during the flight.
Q. How long does it take to complete Chardham Yatra by helicopter?
A. The duration of the Chardham Yatra by helicopter depends on the number of stops and the route taken. Generally, it takes around 6 days to complete the journey via helicopter. It is the shortest and the most convenient way to complete the Chardham Yatra.
Q. Is there any age limit for Chardham Yatra by helicopter?
A. No, there is no age limit for travel for Chardham Yatra by helicopter. You can easily travel with children of any age and even with senior citizens above 70.
Q. Is There Any Provision Of A Wheelchair For Ill-Health Tourists?
We offer wheelchair assistance to those who are unwell. Passengers should let us know when booking, although this service is limited. Depending on the helicopter service provider, there may be additional charges for using a wheelchair.
Itinerary for Chardham Yatra By Helicopter
Day 1: Noida To Dehradun
If you travel via road from Noida to Dehradun, you can quickly complete the journey in around 5 hours for a distance of 253 kms. You can also choose to board a train from Noida to Dehradun. There are 3 weekly trains and two daily trains available from Delhi to Dehradun that takes around 6-7 hours to complete the journey. However, the fastest train takes less than a day to reach.
The most convenient way to reach Dehradun is by airplane. It takes just 1 hour to reach Dehradun from Delhi Airport. It is the quickest and shortest way to complete the journey.
It is worth noting that Blueheigts aviation also arranges private charter services from Noida to Dehradun to make your Chardham Yatra- a memorable affair.
Hence, depending on your budget and preferences, you may choose the suitable mode of travel to reach Dehradun to embark on your Chardham Yatra.
Day 2: Dehradun to Yamunotri
In the morning, you will leave your hotel in Dehradun to reach Shastradhara Helipad and board a helicopter for the Kharsali Helipad in Yamunotri. Blueheights Aviation employee will greet you and take you to a hotel for check-in at Hotel in harsil. Once rejuvenated, journey to the Yamunotri Temple will start via cab. As the temple is 6 kms trek from the helipad, you may choose to reach by walking or hiring the Palki. After a soulful darshan at Yamunotri temple, you will head back to Kharsali. Visit to Shani Temple and Yamuna Mata Temple as the top sightseeing options.
Day 3: Yamunotri to Gangotri
The nbext dham on your itinerary will be the Gangotri, home of the Ganges Goddess. Depart from Kharsali Helipad by Helicopter to reach Harsil Helipad close to Gangotri. Enjoy a quick fifty-minute drive to reach Gangotri Temple which is 25 kms away from the Harsil helipad. After you have completed your Darshan and prayers at the temple, take some time to explore serene Harsil. Short trek to Chholmi village or Mukhwa village along with a visit to Shiv Temple is already included in the Blueheights Aviation's itinerary. Rest overnight at a hotel in Harsil.
Day 4: Gangotri to Kedarnath
Next on your itinerary will be darshan at Kedarnath. The temple in Kedarnath is attributed to the realm of Lord Shiva. You will board the helicopter from Harsil Helipad in the early morning hours to reach Sersi. A shuttle flight will be available from Sersi to reach Kedarnath for Darshan. You will have two hours to complete your Pooja and Darshan. At night, devote some time to tour around Sersi. Blueheights Aviation organizes a trip to Triyuginarayan Mandir, renowned for commemorating the otherworldly relationship between Shiva and Parvati.
Day 5: Kedarnath to Badrinath
The last dham on your Chardham pilgrimage is Badrinath. Referred as the abode of Lord Vishnu, Badrinath is perched at an elevation of 3100 m. Depart from Sersi to reach Badrinath temple for pooja and darshan. After darshan at Badrinath temple, you can enjoy a heritage walk to Mana village. It is considered to be the last village in India where the Tibet border starts. Hot springs at Badrinath are also worth exploring.
Day 6: Return to Dehradun
As you have completed your Chardham Yatra, its time to head back with sweet memories of the trip. You will travel from Sersi to Sharastradhara Helipad in Dehradun by helicopter. Blueheight Aviation's representative will meet you there and take you to the hotel in Dehradun to collect your bags. You can either return to Noida or stay overnight in Dehradun at your own expense.
Your Private Charter Journey Starts Here
Subscribe and we'll send the best deals to you