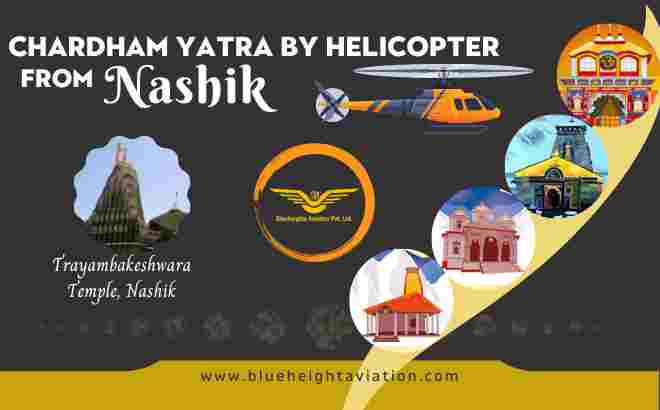 Char Dham Tour Package By Helicopter From Nashik (2023)
Nashik has always been on the list of devotees for its numerous pilgrimage sites and Kumbh Mela fairs. Hinduism, Buddhism, and Jainism are the prominent religious practices inducing the people to Chardham Yatra in Uttrakhand.
Chardham Yatra consists of four main pilgrimage sites in Uttrakhand Yamunotri, Gangotri, Badrinath, and Kedarnath. It is considered the religious duty of every Hindu to complete Chardham Yatra by Helicopter once in their lifetime. This holy yatra is believed to take the devotees to the path of salvation (moksha).
What is the relevance of the Chardham Yatra?
The significance of Chardham Yatras is that it helps purify the soul and brings peace to mind. The journey through these sacred places gives the pilgrims a sense of fulfillment and satisfaction. These pilgrimages help in removing all the sins committed during one's lifetime.
Why do we need to go for Chardham Yatra?
It is said that if you visit all four holy places at least once in your lifetime, you will get rid of all your sins. There are many other reasons why this pilgrimage should be undertaken. Some of them are:
1) To attain Mukti or liberation from the cycle of birth and death.
2) To fulfill the wishes of ancestors.
3) To seek blessings of God.
4) To witness the cultural diversity of India.
5) To offer prayers to God.
6) To gain knowledge about various aspects of religion.
7) To experience the beauty of nature.
8) To have an opportunity to meet spiritual leaders.
9) To enjoy the scenic beauty of the Himalayas.
Why is Chardham Yatra By Helicopter Best?
While the traditional way of the Chardham yatra includes traveling by road, Chardham Yatra by Helicopter is the most convenient and quickest way to complete the yatra. Considered one of the toughest yatras in the Himalayan region, Chardham Yatra is more accessible for elders and families with children with the onset of helicopter services.
Here are some of the advantages of the Chardham Yatra by helicopter:
1.While the Chardham yatra by road takes 10-12 days to complete, the Chardham yatra by Helicopter can be quickly completed in 6-7 days.
2. The journey to Chardham was long and tiring, with many bumps and uneven surfaces. The helicopter gives mesmerizing views of the valley with all the comfort and convenience.
3. You may wait in long queues for Darshan at temples. Chardham Yatra By Helicopter from Blueheight Aviation provides you with VIP darshan facilities to save time and effort during Darshan.
Blueheight aviation also arranges hotel stays and transfers to provide you with a comprehensive Chardham package.
Itinerary for Chardham Yatra By Helicopter from Nashik
Here is the brief itinerary guiding you through the Chardham yatra by Helicopter from Blueheight Aviation:
Day 1: Nashik To Dehradun
There are around 10 connecting flights from Nashik to Dehradun. The aerial distance between the two cities is around 1224 kms. The flight between Mumbai and Dehradun takes approximately 2 hours and 20 minutes to reach.
Regarding rail connectivity, there currently needs to be a direct train from Nashik to Dehradun. You can board the train from Nashik to Hazrat Nizamuddin and proceed to Dehradun. It takes around 29 hours to complete this train journey, which can be very hectic.
The preferred mode of transport from Nashik to Dehradun is by airplane. You may book a commercial flight or a private charter with Blueheight aviation.
Day 2: Dehradun to Yamunotri
The most cherished Char Dham Yatra will start from the Dehradun to the Kharsali Helipad, nearest to the Yamunotri temple. The distance between Kharsali Helipad and the Yamunotri temple is approximately 6 kms. You can easily cover it via trek. The service for Palki and pony is also accessible for an additional cost. After darshan, pilgrims head back to Kharsali to discover the splendor after a soulful darshan.
Program Summary:
The flight towards Kharsali Helipad from Shastradhara
Kharsali Helipad, to Yamunotri temple, via horses or Palki
Hotel stays for the night in Kharsali.
Day 3: Yamunotri to Gangotri
The next Dham to be covered after Yamunotri is the Gangotri. It is believed to be the home of the Goddess river Ganga. The visitor will take the Helicopter from Kharsali Helipad to reach Harsil. After that, you'll take the car for a ride to Yamunotri Temple for Darshan. After a meditative Darshan, return to Harsil to stroll around its peaceful beauty. Relaxing and unwinding in the hotel will help you rejuvenate.
Program Summary:
Traveling between Kharsali to Harshil
Reaching Gangotri Temple Via Car
Overnight Stay at Harshil
Day 4: Gangotri to Kedarnath
Kedarnath is among the 12 prominent Jyotirlingas for Shiva. It is one of the most famous among the Panch Kedar temples. Once you reach Sersi, a shuttle helicopter service is available to take you to the nearest point of the Kedarnath temple. Once reached, you will be provided with 2 hours for Darshan. Visit Bhairo mandir and Adi Shankaracharya Samadhi as places of high religious importance.
The sightseeing experience at Triyuginarayan temple is truly soul-enlightening. It is believed that this temple has witnessed the celestial marriage of Lord Shiva with Goddess Parvati.
Program Summary:
Harsil to Sersi Helipad
Shuttle flights to Kedarnath
Darshan at Kedarnath Temple
Visit Triyuginarayan Temple
Day 5: Kedarnath to Badrinath
The final Dham under the Char Dham Yatra Circuit is Badrinath. It is known as the abode of Lord Vishnu. You'll drive down to Sersi Helipad in the early morning to reach Badrinath. After a wholesome lunch, you will proceed for Darshan at Badrinath temple. It takes about two hours to complete the Darshan and pooja at the temple. After this, you will head back to Sersi and will have the opportunity to discover more of the Badrinath surroundings. Consider visiting Mana Village as an exciting adventure located on the Indo-Tibetan Border.
Program Summary:
Sersi to Badrinath Temple
Returning to Sersi
Afternoon Sightseeing at Mana Village
Day 6: Back to Dehradun
It's time to pack your bags to come back to Dehradun. We'll depart the Sersi early to reach the Sahastradhara helicopter pad. You may choose a stay in Dehradun at your own expense. Otherwise, you can collect your luggage from the Dehradun Hotel (which you dropped off at the time of arrival) and proceed back to Nashik.
Tour ends with some cherished memories and unforgettable experiences.
Program Summary
Badrinath to Dehradun
Dehradun to Nashik
Chardham Yatra is an enchanting experience that every Hindu devotee wishes to explore. It is undoubtedly a soul-satiating experience you will cherish throughout your memories.
Frequently Asked Questions
Which is the Oldest Dham?
Yamunotri is the oldest Dham. It is the seat of the goddess Yamuna and is dedicated to the holy river Yamuna. It is the westernmost shrine of the Garhwal region and is famed for its thermal springs and glaciers. Considering the Hindu tradition, Yamuna is known to be the sister of Yama – the God of death. Perched at the top flank of Bandar Ponch Parvat, the holy Chardham Yatra begins from Yamunotri Dham.
Is Chardham Yatra Possible by Train?
No, currently, Chardham Yatra is not accessible by train. The nearest railway station is in the Garhwal region. You can travel to Chardham by road, but there are more convenient options. It will be a long journey and can be a tiring one. The best way to complete Chardham Yatra is by helicopter. It is the most convenient way to reach Chardham.
Where to Book a Helicopter flight for Kedarnath?
Blueheight aviation is a one-stop solution for all your Chardham Yatra booking needs. Whether you are looking for a Do Dham yatra or Chardham yatra, Blueheight aviation offers complete packages to meet all your needs.
Is Chardham Safe to Visit?
Yes! Chardham Yatra is safe to visit. It is an excellent option for solo female travelers as well. Blueheight aviation makes all the necessary arrangements to ensure that you have a smooth and best Chardham Yatra experience.
You Might Also Like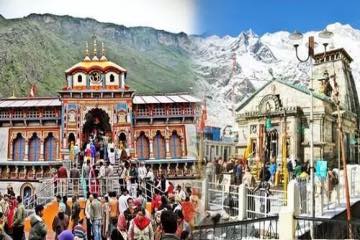 2N3D Helicopter Tour Package :120,000/ pax

5N6D Helicopter Package@ 190,000/ pax from Dehardun


Your Private Charter Journey Starts Here
Subscribe and we'll send the best deals to you