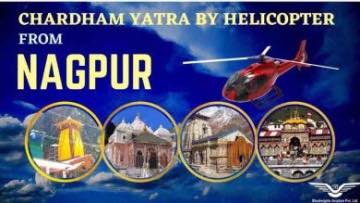 Char Dham Yatra Tour Package By Helicopter From Nagpur (2023)

Nagpur is known as Orange city and is Maharashtra's third-largest city and winter capital. With its agglomeration of people from different castes and creeds, the city witnesses a mix of cultures and festivals. While 70% of the city population follows Hinduism, there is a significant outflow of devotees to visit the holy Chardham Yatra.
In Hindi, char means four, and Dham means destination. So, the name translates to "four holy destinations". The Char Dham Yatra covers four sacred places in Uttarakhand – Yamunotri, Gangotri, Kedarnath, and Badrinath. It is considered an essential Hindu Pilgrimage circuit that every devotee wishes to travel once in their lifetime.
Yamunotri is one of the most popular pilgrimage centers in India. This place was by the king of Tehri in 1839, but it was destroyed due to a massive earthquake. Later, it was reconstructed by the Gularia Devi in the 19th Century.
Gangotri is another important site on the yatra circuit. According to Hinduism, Goddess Ganga turned herself into the river to wash away the sins of King Bhagirath's Forefathers.
Kedarnath is the third stop on the yatra trail. It is dedicated to Lord Shiva.
Badrinath is the fourth and final destination. Here, the main deity is Lord Vishnu.
While you may travel via road or airways, we recommend you travel via air to make your journey short and easy. Pioneer aviation services like Blueheight aviation offer Char Dham Yatra By Helicopter to make your Chardham Yatra a memorable experience.
Itinerary For Char Dham Yatra By Helicopter
Here is the brief itinerary for Char Dham Yatra by Helicopter from BlueHeight Aviation:
Day 1: Nagpur to Dehradun
There are approximately 13 connecting flights available from Nagpur to reach Dehradun. The journey takes around 5 hours to complete. The aerial distance between the two cities is 1025 km. You can also board a train that takes about one day to reach. You may also travel by road, but the journey will be long and tiring.
Hence, we recommend taking a flight from Nagpur to reach Dehradun hassle-free. Blueheight representative will receive you from Jolly Grant Airport and transfer you to the Hotel in Dehradun for a complimentary overnight stay.
Program Summary:
Nagpur to Dehradun
Overnight stay at Dehradun
Day 2: Dehradun to Yamunotri
This most sacred Dham Yatra will start from the Dehradun to Kharsali. The journey from Kharsali Helipad to the temple by riding on the back of a horse or the Palki is simple. It's about 6 kms from the holy temple.
Following the darshan, the pilgrims head back to Kharsali to visit the temple, and a relaxing night's sleep is waiting for them.
Program Summary:
Flying to Kharsali Helipad
Kharsali Helipad to Yamunotri temple, on the backs of horses, or by Palki
Night stay and exploring Kharsali.
Day 3: Yamunotri to Gangotri
The next day you will head to Harsil helipad, which is nearest to Gangotri temple. From Harsil, we'll take a car to Gangotri temple. The distance is around 25 kilometers. Harsil is a beautiful valley with thick forests and stunning mountains.
While traveling through the valley, you'll see numerous incredible spots. Explore the beauty of nature, and snap photographs that will make your visit memorable. Overnight stay and dinner at Harsil Gangotri.
Program Summary:
The flight is operated starting from Kharsali towards Harsil Helipad
Harsil towards Gangotri temple via vehicle
An overnight stay at Gangotri.
Day 4: Gangotri to Kedarnath
The next Dham on the list is Kedarnath - the heavenly abode of Lord Shiva. Get ready in the morning to proceed to Harsil Helipad. They will reach the Sersi base and then be taken to Kedarnath Dham via Flight shuttle service.
After a sumptuous breakfast, you will proceed for darshan at Kedarnath Ji. Then you will come back to Sersi to enjoy the sightseeing. Triyuginarayan Temple is one of the famous sightseeing options at Sersi, known for the celestial marriage of Lord Shiva and Goddess Parvati.
Program Summary:
• Harshil Helipad to Sersi Helipad
• Sersi to Kedarnath via Shuttle Flight
• Darshan for 2 hours
• Visit the Triyuginarayan temple
Day 5: Kedarnath to Badrinath
It's time to visit the last Dham - Badrinath on the list. You will depart from Sersi Helipad to reach Badrinath. The Badrinath temple is just 500 meters away from the Helipad. After a soulful Darshan at Badrinath, you will head back to Sersi. Mana Village is the last village after the Tibetan border starts, thus making it exciting sightseeing for devotees.
Program Summary:
Sersi to Badrinath
Darshan at Badrinath Temple
Sightseeing at Badrinath
Day 6: Back to Dehradun
Time to go back to Dehradun with treasured Char Dham memories. While traveling, we can enjoy the stunning views of the region. Enjoy the spectacular valley views of thick forests. Witness the confluence of five rivers - Vishnu Prayag, Nanda Prayag, Karna Prayag, Rudra Prayag, and Dev Prayag.
.
Tour ends with lasting memories.
Program Summary
Badrinath to Dehradun Drop off
Frequently Asked Questions
What is the Best Time to Visit Char Dham Yatra?
Although the Yatra is open from April to November, the months of May and June are considered best for Chardham Yatra. The weather conditions remain pleasant during these months, which makes it safe for your yatra.
How Many Days do You need For Chardham Yatra?
There are a minimum of 5 days and a six-night Chardham Yatra Package by helicopter to seek the blessings of the almighty in Char Dham. It is popularly known as Chota Char Dham as there is another circuit formed by Adi Shankaracharya, which is popularly referred to as Char Dham.
What Should We Carry for Chardham Yatra?
Light Baggage, Warm Clothes, Medicines, Handy Snacks, Packed Foods, umbrellas, Torch, a Mobile charger, Cash, and a Water bottle are some essentials you should carry for your Chardham Yatra.
Why is Blueheight Aviation Best for Chardham Yatra Tour?
Blueheight Aviation has been operating in the industry for a long. Over ten years of experience providing air charter services to domestic and international destinations. We have an extensive fleet of modern aircraft that are well-maintained and equipped with all necessary safety equipment. Our experienced pilots know every inch of this region and can provide safe and comfortable travel.
So, what are you waiting for? Book your Chardham Yatra By Helicopter Now!
You Might Also Like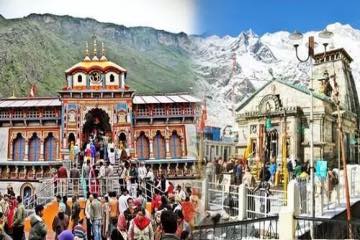 Your Private Charter Journey Starts Here
Subscribe and we'll send the best deals to you