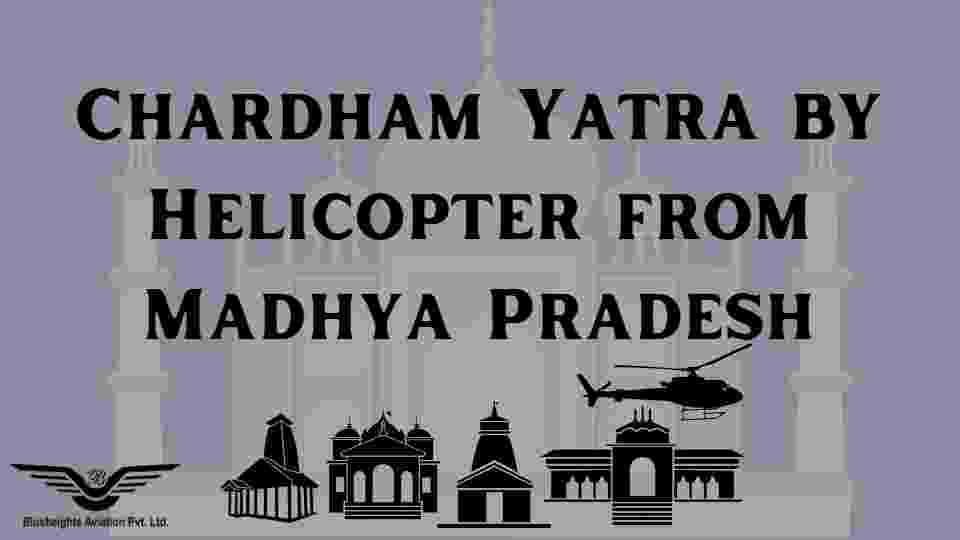 Chardham Yatra By Helicopter from Madhya Pradesh
Do you want to experience the magical and spiritual journey of Chardham Yatra but need more time to make the trip?
The Chardham Yatra, a sacred religious tour of four highly revered Hindu temples - Badrinath, Kedarnath, Gangotri, and Yamunotri in Uttarakhand - has been followed as a tradition for centuries. Over the years, it has transformed from a land-based trek to a comfortable helicopter journey with personalized amenities.
For those in Madhya Pradesh (MP), it has become easier to reach these holy shrines by taking a helicopter ride through some of MP's most scenic pastures at sunrise. Here we discuss why this is the ideal way to witness one of India's most beautiful pilgrimages.
Why Chardham Yatra by Helicopter is the best option?
The Chardham Yatra by helicopter from Madhya Pradesh is a great way to experience the Himalayas' beauty and the Chardham Yatra's spiritual journey. The helicopter ride offers breathtaking views of snow-capped mountains, lush green valleys, and picturesque lakes. It also allows you to reach each temple in a fraction of the time it would take to make the journey by road.
The helicopter ride offers a more personalized experience with comfortable seating, air-conditioning, and in-flight meals. You can also choose to have a dedicated guide to accompany you on your journey and help you explore each temple in detail.
Moreover, the helicopter ride is much safer than travelling by road due to the unpredictable weather conditions in the Himalayas. So, if you are looking for a unique way to explore India's most sacred pilgrimage, then the Chardham Yatra by helicopter from Madhya Pradesh is a perfect choice.
History Of Chardham Yatra
The Chardham Yatra has been a part of Hindu tradition for centuries. It is believed that Adi Shankaracharya first undertook the journey to these four holy shrines in the 8th century. Since then, it has become an essential pilgrimage for Hindus all over India and abroad.
The Chardham Yatra is called 'Char Dham ', which means 'four abodes'. These four temples are located in the Garhwal region of Uttarakhand and are dedicated to Lord Vishnu, Shiva, Ganga and Yamuna, respectively.
The journey is believed to bring spiritual enlightenment and peace of mind to those undertaking it. It is also said that completing the Chardham Yatra brings one closer to attaining moksha or liberation from the cycle of birth and death.
Why Consider Blueheights Aviation for Chardham Yatra by Helicopter?
Blueheights Aviation is one of the leading helicopter service providers. They offer a wide range of services for Chardham Yatra by Helicopter from Madhya Pradesh, including customized packages and personalized amenities.
The company has an experienced team of pilots and engineers who are well-versed in the terrain and weather conditions in the Himalayas. It ensures that your journey is safe and comfortable.
Blueheights Aviation also offers a variety of packages to suit your budget and requirements. They provide round-trip services, one-way trips, and multi-day packages for Chardham Yatra by Helicopter from Madhya Pradesh.
So, if you are looking for an unforgettable experience of the Chardham Yatra, then Blueheights Aviation is a perfect choice.
Itinerary by Blueheights Aviation for Chardham Yatra by Helicopter
Here is a brief itinerary from Blueheights Aviation for Chardham Yatra by helicopter:
Day 1: Madhya Pradesh to Dehradun
Dehradun's Jolly Grant Airport is appropriately linked to many cities in India, including Madhya Pradesh. You can conveniently book the flight to reach Dehradun in around 5 hours. The aerial distance between the two cities is 773 km.
Taking the train is a convenient way to travel from Punjab to Dehradun. Around 6 trains are operating this route, and a ticket can be booked in advance. The journey takes over one day to complete.
Dehradun has situated 1,141 km from Madhya Pradesh, and the drive takes approximately 10 hours. You can hire a taxi or take a bus to Dehradun for a scenic journey through the countryside. It is an excellent option if you have the time to spare.
Day 2: Dehradun to Yamunotri
Begin your spiritual tour at Yamunotri in the holy city of Yamuna. After you pay your respects, check out of your hotel in Dehradun and proceed to Shastradhara Helipad early in the morning.
After departing from here, you will embark on a helicopter flight to Kharsali Helipad in Yamunotri. Upon arrival, our representative will be there to escort you to your accommodation in Kharsali so you can check in and rest. Afterwards, you can visit the grand Yamunotri Temple and receive Darshan. During the night, you can explore Kharsali before returning to stay at your hotel.
Day 3: Yamunotri to Gangotri
After departing from Kharsali Helipad, your trip to the Chardham area continues with a helicopter ride to the Harsil Helipad, which is situated close to Gangotri. From there, you will drive for 50 minutes until you reach the Gangotri Temple. Once you have partaken in Darshan and pooja at the temple, explore the charming town of Harsil for the evening and rest at a hotel for the night.
Day 4: Gangotri to Kedarnath
Kedarnath, the holy city characterized by its sanctity and said to be the home of Lord Shiva, is on our list next. After you deplete from Harsil Helipad in the morning, a substantial helicopter ride will take you to Sersi Helipad, followed immediately by a transfer to Kedarnath Temple for darshan and pooja. With two hours being assigned for completing these spiritual activities, you can explore the sights of Sersi in the evening before relaxing at a hotel to restore your energy for tomorrow.
Day 5: Kedarnath to Badrinath
To end your Chardham pilgrimage, you will visit the sacred town of Badrinath, which is revered as the home of Lord Vishnu. Starting at Sersi Helipad, you can take a chopper ride in the morning to arrive at Badrinath. After respecting this holy site, you can visit Mana Village, the last village before India's border with China. After a long day of sightseeing, overnight accommodation will be available at Badrinath's hotel.
Day 6: Return to Dehradun
Once you finish your Chardham tour, it's time to head back to Dehradun. You'll set out from Badrinath and go by helicopter to the Sharastradhara Helipad in Dehradun. A Blueheights Aviation representative will take you to your hotel in Dehradun to get your baggage. You can go directly home or spend a night in Dehradun (additional cost).
Frequently Asked Questions
How do I complete Char Dham yatra?
The general route followed for the Char Dham Yatra is west to east. Starting in the clockwise direction, Chardham Yatra begins from Yamunotri, then leads to Gangotri, followed by Kedarnath, and then completes the journey at Badrinath.
Is Char Dham Yatra arduous?
A Char Dham yatra isn't easy. Pilgrims need to earn the benefits bestowed, as only two temples (Badrinath and Gangotri) are accessible by vehicle. The remaining two (Yamunotri and Kedarnath) require treks. However, Chardham Yatra By Helicopter is relatively more straightforward as it skips the long and hectic road journey.
Where to go first in Char Dham Yatra?
Yamunotri is the first Dham on the list that every devotee visits on their Chardham Yatra. It is believed that Chardham Yatra should be covered in a clockwise direction. So, starting from Yamunotri, you will proceed to Gangotri, Kedarnath, and finally to Badrinath.
Which Month is best for Char Dham Yatra?
May and June are considered to be the best time to go for Chardham Yatra. The climatic conditions during this time are most pleasant. In July, as the monsoon arrives, landslides are likely, making your Yatra difficult.
What Should I wear on Chardham Yatra?
Depending on the weather conditions, you should wear the appropriate clothes. It is essential to carry warm clothes as the nights become colder, even during the summer season in Northern India. Pack your bags with Mufflers, woollen clothes, and a jacket to make your travel most comfortable.
Can Heart Patients Go for Chardham Yatra?
Patients suffering from chronic heart disease should avoid travelling above 4500 m. As the oxygen level drops down, it becomes difficult for them to breathe. So, heart patients should avoid visiting Kedarnath and Yamunotri.
Which is the best Heli Service for Kedarnath?
Blueheights Aviation is an undisputed choice for Chardham yatra. They provide the best helicopter services for Kedarnath and other destinations. They have a fleet of modern helicopters with all the necessary safety features.
Your Private Charter Journey Starts Here
Subscribe and we'll send the best deals to you