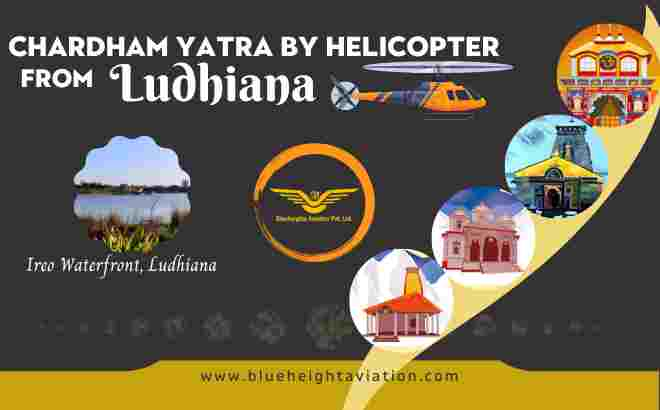 Char Dham Tour Package By Helicopter from Ludhiana

Referred to as the largest city in Punjab, Ludhiana is known for its apparel industry and textile equipment. With a high density of the Hindu population accounting for 65.96%, many devotees travel to Uttrakhand each year from Ludhiana to complete Chardham Yatra.
What is Chardham Yatra?
Chardham Yatra visits the holy pilgrimage centers, Yamunotri, Gangotri, Kedarnath, and Badrinath, which hold high significance in Hinduism. These pilgrimages are referred to the heavenly seat of Goddess Yamuna, Holy Ganga, Lord Shiva, and Lord Vishnu, respectively. Chardham Yatra is considered the religious duty of every Hindu devotee to visit at least once in their lifetime.
Chardham Yatra opens in April for darshan and closes in November. While Chardham Yatra by road is the primitive way to complete the yatra, the easiest and most convenient way to Chardham Yatra is by helicopter.
Chardham Yatra Itinerary from Blueheight Aviation
Here is a quick itinerary from Blueheight Aviation for Chardham Yatra By Helicopter:
Day 1: Ludhiana to Dehradun
To reach Dehradun, you can take a train from Ludhiana. It takes approximately 10 hours to complete the journey. The distance between the two cities is approximately 370 km. Also, consider flying from Ludhiana to Dehradun.
But there is no direct flight from Ludhiana. You can board a connecting flight from Delhi to Dehradun that takes approximately 45 minutes to reach. A representative from Blueheight will escort you to the Dehradun station/airport for a complimentary night stay in a hotel.
Itinerary at a Glance:
From Ludhiana to Dehradun
An Overnight Hotel stay at Dehradun
Day 2: Dehradun-Yamunotri
The sacred Dham Yatra is believed to begin at the Dehradun and proceeds to Kharsali Helipad, which is closest to the Yamunotri temple. Riding on horseback or a Palki from Kharsali Helipad towards the Yamunotri temple is accessible. The shrine is just 6 km away. Pilgrims will return to Kharsali after the Darshan and can explore it. Head back to the hotel for a rejuvenating experience.
Itinerary at a Glance
Fly to Kharsali Helipad
Kharsali Helipad to Yamunotri temple
Kharsali Sightseeing and Night Stay
Day 3: Yamunotri to Gangotri
Next day, you'll head to Kharsali Helipad in the morning to reach Harsil, the closest helipad to Gangotri. We'll then drive to Gangotri temple from Harsil for Darshan. It takes approximately 50 minutes to travel the 25 km distance. Harsil is a lovely valley filled with lush forests and stunning mountains.
You'll find many beautiful spots that showcase the beauty of nature as you travel through the valley. Make sure to capture memories that will last a lifetime. You will be ready for the day ahead if you have a restful night.
Itinerary at a Glance
Kharsali to Harsil
Harsil to Gangotri temple via car
Overnight Stay at Harsil
Day 4: Gangotri to Kedarnath
The next Dham to visit will be Kedarnath, after a soul-satiating Gangotri Darshan. It is known as the holy abode of Lord Shiva. To reach Kedarnath, the guest will travel to Sersi Helipad, and after that shuttle flight service will be available to reach Kedarnath. The Darshan at Kedarnath temple takes about 2 hours. Blueheight Aviation crew will take you to Adi Shankaracharya Samadhi and the Bhairon Mandir after that. These places hold high cultural and mythological relevance.
In the evening, take a stroll around Triyuginarayan Mandir which is renowned as the place for Lord Shiva and goddess Parvati's marriage.
Itinerary at a Glance
Sersi to Kedarnath
Soulful Darshan at Kedarnath
Sightseeing in Sersi
Enjoy a relaxing stay in the hotel
Day 5: Kedarnath to Badrinath
To reach Badrinath, devotees will travel to the Sersi base in the morning. In the afternoon, you will be transported by car to Badrinath temple for Darshan & Pooja. Badrinath's hot springs are worth exploring. You can reserve your evening trek to Mana Village on the Indian Border with Tibet.
Itinerary at a Glance
Badrinath to Sersi
Darshan at Badrinath Temple
Sightseeing at Mana Village
Day 6: Dehradun to Ludhiana
After breakfast, we will fly back to Dehradun. Enjoy the breathtaking views of Uttarakhand as we fly over its immersive valley. Nature lovers will be delighted by the stunning images of confluences. We fly above magnificent valleys of dense forests and the confluence of 5 rivers (Vishnu Prayag. Nanda Prayag. Karna Prayag. Rudra Prayag. and Dev Prayag).
Enjoy beautiful memories at the end of your tour.
Itinerary at a Glance
Badrinath to Dehradun Drop Off
Blueheight Aviation – One Stop for Chardham Yatra by Helicopter.
Blueheight Aviation has provided impeccable Char Dham Yatra services to tourists for the last ten years. Our crew members and pilots are highly-trained in handling all weather conditions. With extensive experience, Blueheight has emerged as a pioneer in providing helicopter services for Chardham Yatra.
We ensure Char Dham Yatra services with complete safety and security.
Our Char Dham Yatra Packages include accommodation, food, travel arrangements, and meals.
So, what are you waiting for? Book an affordable Chardham Yatra by Helicopter from Ludhiana with Us!
Frequently Asked Questions
When is the best time to visit Chardham Yatra?
The best time to visit Chardham Yatra is during April and May. The weather is pleasant, and you can enjoy your Yatra in full swing. June and July are the rainy seasons that are prone to landslides. If you want adventure, consider visiting Chardham in October or November to enjoy the snow-capped mountains and unexpected snowfalls amid the dipping temperature.
Which Dham to be Visited First For Chardham?
Yamunotri is the first Dham to be visited among all the four Dhams. It is the seat of the holy river Yamuna and is considered to be the origin of the river Yamuna.
Is there any ATM in Chardham?
Yes, you can find some ATMs in Chardham, but these are not easily accessible. Taking along enough cash for your Yatra is highly recommended, as many roadside vendors do not accept plastic money. Hence, you should maintain a requisite cash balance to make your Yatra a delightful experience.
Do I Need to Book Hotels at Various Dhams?
With Blueheight aviation, you do not need to worry about hotel booking and transfers. Our Chardham Yatra by Helicopter packages includes Helicopter booking, Hotel Stay, transfers, and VIP Darshan at the Badrinath.
Are you ready to take your Chardham Yatra experience to the Next level? Call us Now!
Your Private Charter Journey Starts Here
Subscribe and we'll send the best deals to you