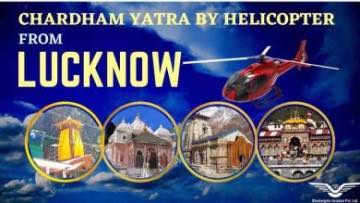 Chardham Tour Package By Helicopter From Lucknow (2023)
One of the largest cities in Uttar Pradesh, Lucknow has been looked up to as a seat of culture and administration. The city attracts numerous tourists annually for its historical offerings, such as Rumi Darwaza, Mughal Gateway, etc. Most of these tourists then love to flock down to Uttarakhand to dive into the spiritual blessings of Chardham.
Char Dham Yatra is the pilgrimage to four holy sites in India. It has become very famous over the years. People from all around the globe visit these places year after year. So, what makes them unique? Why should you plan a trip to these places?
The Char Dham yatra (pilgrimage) is a religious journey undertaken by Hindus across India. This journey is considered to be one of the holiest pilgrimages in Hinduism. These four sacred locations include Badrinath, Kedarnath, Gangotri, and Yamunotri.
Hindus believe visiting these places helps them attain moksha or liberation from the cycle of birth and death. They also think these places are home to various deities who bless those who pray at their shrines.
While there are many ways to reach Char Dham, the easiest way is to avail of helicopter Services by Blueheight Aviation. It is the shortest and easiest way to complete the Char Dham circuit in five days.
Let's dive into details on how your journey to Chardham will be enthralling with Blueheight Aviation.
Itinerary for Chardham Yatra By Helicopter from Lucknow:
Day 1: Lucknow to Dehradun
The cheapest way to reach Dehradun from Lucknow is to board a train. But it takes almost 11 to 14 hours and is very tiring. However, the fastest way to reach Lucknow is via a flight. It takes 1 hour and 5 minutes to reach and is the most convenient way to begin your char Dham yatra.
Day 2: Dehradun to Yamunotri
The holy Chardham journey starts at Yamunotri, dedicated to the Hindu Goddess Yamuna. You'll take a Helicopter from Shastradhara Helipad situated in Dehradun to arrive at Kharsali Helipad in Yamunotri. The representative of our company will greet passengers at Harsil Helipad to proceed to the hotel for check-in. After that, you'll leave for a relaxing Yumunotri Temple Darshan. After returning, it's time to unwind and relax.
Day 3: Yamunotri to Gangotri
The next Dham that will follow Yamunotri will be Gangotri Dham. The Gangotri Dham is the heavenly home of the Ganges, a sacred river in India. You will reach the Harsil Helipad early morning and check into the hotel. After that, you'll be taken to Gangotri temple, about 50 minutes away. Remain and relax in the natural beauty of the area to relax.
Day 4: Gangotri to Kedarnath
After Gangotri, the next Dham that follows is Kedarnath. It is described as the place of Lord Shiva, who is referred to as the 'Destroyer.' You travel from Harsil to the helipad until to reach Sersi Helipad near Kedarnath. Shuttle service will transport you to Kedarnath Ji for Darshan. For 2 hours, you'll dive into the spiritual Darshan of Kedarnath Ji.
Day 5: Kedarnath to Badrinath
The last Dham will be Badrinath - the spiritual home of Lord Vishnu, the universe's creator. You will board the helicopter at Sersi Helipad to reach Badrinath temple. Mana Village is one of the most popular attractions in Badrinath and is also known as the last village in India. After this village, the China border starts.
Day 6: Back to Dehradun
After completing the darshan of all four Dhams, now time to head back to Dehradun with some unforgettable memories. You will leave Badrinath and reach Sharastradhara Helipad in Dehradun. Our representative will guide you in returning to your Hotel in Dehradun to pick up your luggage. Then, you'll catch the train or flight to Lucknow.
Consider an overnight stay in Dehradun on a chargeable basis to relax.
Terms & Conditions For Chardham Helicopter Services- Blueheights Aviation
The passenger should not carry luggage weighing more than 2 kg. Luggage that is heavier than 2 kilograms is not allowed on the helicopter.
Any child older than two will travel at the total ticket price.
Make sure to distinguish the reporting time from the departure time. Reporting time starts an hour ahead of the departure time.
Passengers are asked to go to our office with the CTT voucher.
The minimum time to wait for travelers is 2 hours, based on the weather conditions.
The temples are at high altitudes, so travelers must bring medical kits.
No restrictions or other concessions are available to youngsters or older adults.
Any additional nights because of weather are the guest's obligation to the hotel.
Our Services reserve the right to delay flight times due to conditions in the weather that aren't suitable.
Senior citizens and people who have disabilities will receive a preference
Darshan for passengers is 1 hour 30 minutes.
On the helicopter ride, we don't take any responsibility for your baggage.
Chardham Yatra Packages 2023 would be designed to accommodate passengers in groups of their own. However, it is only sometimes practical in all instances to split passengers into groups, allowing for weight reductions.
Important Note:-
Suppose the flight is canceled or delayed due to weather conditions, technical issues, insufficient passengers, or other reasons. In that case, the passengers must fly on their own with the package you bought, and a full refund will be made. If you have issues regarding the 4 Dham Yatra helicopter services, call us at our support phone number, and our team of experts will address your problem immediately.
When you hire Char Dham helicopters, We will offer the highest quality services to ensure you can enjoy a relaxing and luxurious experience. To keep up with the ever-growing expectations of our customers, we can excel in providing top helicopter services. Our experts frequently interact with our clients and can offer the possibility to lease a helicopter as they require and then purchase the services from us for the most affordable cost.
Our fleet comprises 100+ aircraft and helicopters to ensure that regardless of your travel requirements, we will have the right aircraft in the shortest time. To experience a unique air charter experience, sign online to BlueHeight Aviation.
What are the reasons to book Chardham Yatra via Blueheight Aviation?
Our exceptional Chardham Yatra tour packages let you enjoy your trip to Uttarakhand. The Chardham Yatra 2022 package by Blueheight Aviation is available at the lowest cost and was created after considering all your requirements and wishes. If you're in a hurry, consider Do Dham Yatra instead of Chardham Yatra packages from Lucknow.
What's inside the Chardham Packages?
The Chardham Yatra packages that depart from Lucknow will guarantee that your every requirement and preference is met to exceed your expectations. If you are booking your flights as well as train travel, we'll ensure that you receive the finest accommodation that is affordable and will meet your every need. Chardham packages will guarantee that you receive high-quality services. Because the journey starting from Lucknow to Uttarakhand is exceptionally exhausting and long, Our routes are designed so that you will have ample time to unwind and unwind.
Chardham Yatra by Helicopter
Is it the lack of time or inability to go long distances on the road to the Chardham Yatra? Utilize your Chardham Tour by Helicopter from Blueheight Aviation to discover the four holy sites with the most incredible precision and brief duration of time. Chardham Yatra helicopter service provides you with fantastic sightseeing. The amazing views you observe from the ground will delight your eyes.
Explore the other attractions on your journey to Chardham
Our tours are available at the lowest cost to ensure that you participate in Chardham Yatra darshan and have fun exploring the many places you visit throughout your journey. If you're from Lucknow, You'll probably be eager to explore some of the world's most renowned tourist destinations and places near Chardham. Making special arrangements upon request to visit these destinations is possible to make your travel experience more enjoyable than ever before.
We also offer tailor-made Char Dham Packages.
Blue height aviation provides the possibility of a custom Chardham Yatra Lucknow package depending on your needs and preferences. Find a low-cost, budget-friendly, and luxurious Chardham Pilgrimage with us to enjoy the most unforgettable trip ever.
Frequently Asked Questions
How Much Time is Required For Chardham Yatra?
Depending on your transportation mode, the time required for Chardham Yatra varies. If you travel via road, generally it takes 10-11 days to complete the yatra; Chardham Yatra by Helicopter is the shortest and most convenient way to complete the yatra. Blueheight aviation offers a 6N/5D comprehensive Chardham Yatra package that includes your accommodation, transfers to helipads and hotels, and an exemplary Yatra experience.
Does the Helicopter Yatra Allow Baggage?
Yes! You are allowed baggage up to 5kg per person during your Chardham yatra by Helicopter. As the helicopters are limited in space and weight handling capacity, excessive luggage shall not be allowed as the aviation rules are strict with extra weight in your baggage.
The maximum weight per person allowed is 75 Kg. Any discrepancy in the weight during boarding will invite the immediate cancellation of the ticket without any right for refund claims. Ensure that you make the proper weight disclosed during initial documentation. The rules regarding weight and baggage are strict.
What is the age limit for kids for Helicopter Yatra?
The kids below two years do not require any helicopter ticket. But the kids above two years will travel on the full helicopter ticket. You must bring along the Aadhar card to show valid birthdate proof for your kids.
You Might Also Like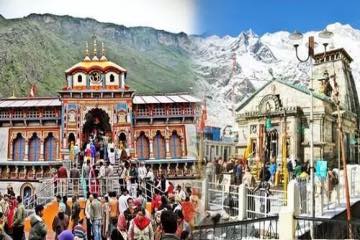 Your Private Charter Journey Starts Here
Subscribe and we'll send the best deals to you