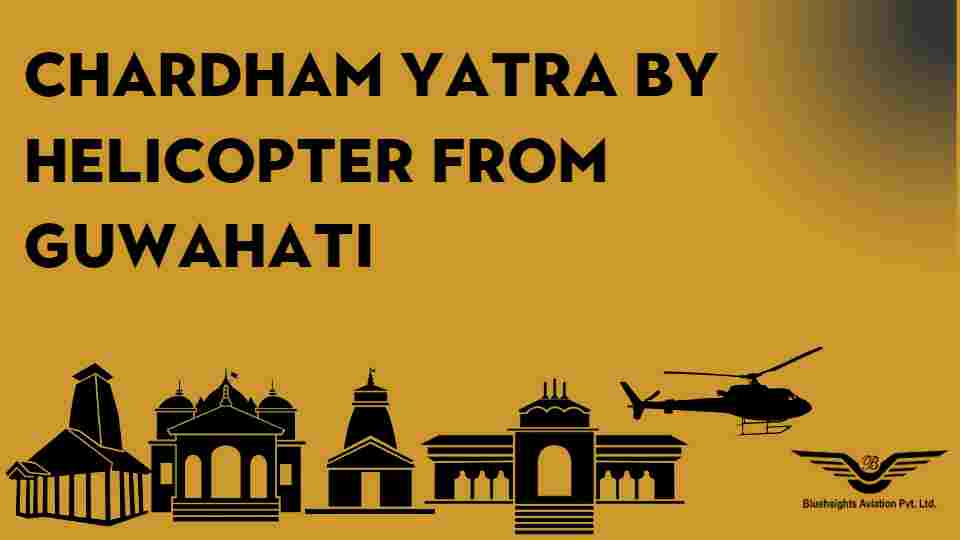 Chardham Yatra By helicopter from Guwahati
Are you looking for a truly unique way to explore the four most holy Hindu sites of Northern India?
The Chardham Yatra is considered one of the holiest pilgrimage locations in India, encompassing sites like Yamunotri, Gangotri, Kedarnath, and Badrinath. Millions make their way to this spiritual journey each year. Many prefer travelling by buses or trains, but if you want a faster and more efficient mode of transport, then the Char Dham Yatra Helicopter from Guwahati would be ideal.
What is Chardham Yatra?
Chardham Yatra is a pilgrimage to India's four most sacred Hindu temples. These temples are located in the Garhwal region of Uttarakhand and are dedicated to Lord Vishnu, Lord Shiva, Goddess Yamuna, and Goddess Ganga. It is believed that those who complete the Chardham Yatra are blessed with moksha or liberation from the cycle of birth and death.
Why Choose Char Dham Yatra Helicopter From Guwahati?
Choosing a helicopter for your Chardham Yatra is an ideal way to save time and energy. It will also give you a bird's eye view of the majestic Himalayan range, a sight to behold. The helicopter ride will take you directly to the four temples, so you don't have to worry about long journeys by road or train. You can also enjoy the beautiful scenery of the Himalayas from the comfort of your seat in the helicopter.
A typical journey to each Dham takes hours to cover by road and be completed in minutes using Helicopter services. Among all the options available to visit Chardham, yatra by helicopter is the most convenient and preferred way.
If you are looking for an enriching Chardham yatra experience, Blueheights Aviation is just a call away. We are the pioneer of air aviation services with over 10 years of industry experience.
Itinerary for Chardham Yatra By Helicopter
Here is an exclusive itinerary for Chardham yatra by helicopter by Blueheights Aviation:
Day 1: Guwahati to Dehradun
Driving from Guwahati to Dehradun through NH 27 will take approximately 36 hours. Taking a train for this same journey can take over a day. A more convenient means of getting to Dehradun is to board an airplane from Guwahati, with 11 connecting flights available. Generally, it takes around 5 hours to reach Dehradun from Guwahati.
With Blueheights Aviation, you can arrange a private flight to Dehradun. Upon arrival, an executive will accompany you to the hotel for a complimentary overnight stay courtesy of Blueheights Aviation.
Day 2: Dehradun to Yamunotri
Early in the morning, it is time for you to check out of your hotel in Dehradun and journey to the Shastradhara Helipad to board a helicopter. The Kharsali Helipad located in Yamunotri is where you will be met by our representative, who will take you over to your accommodation in Kharsali.
After taking a short break, you can visit and explore the spectacular Yamunotri Temple. Afterwards, have some time to examine Kharsali's pleasant village. Blueheights Aviation takes care of all lodging arrangements, with an overnight stay at Kharsali's hotel being part of the itinerary.
Day 3: Yamunotri to Gangotri
Begin your Chardham pilgrimage at Kharsli Helipad, where you'll board the helicopter to reach Harsil Helipad near Gangotri. A fifty-minute flight awaits you, taking you straight to the holy shrine of Gangotri. After worshipping at the temple, devotees can take in the beautiful sight of Harsil before heading back and spending the evening there. To conclude this unique experience, one must stay overnight at a hotel in the area.
Day 4: Gangotri to Kedarnath
From the Harsil Helipad in the morning, take a helicopter to the Sersi Helipad. Then, transport to Kedarnath Temple for Darshan and pooja rituals - two hours have been allocated for these tasks. Afterwards, spend some time exploring Sersi and its Triyuginarayan Mandir - it is considered to be where Lord Shiva wed Goddess Parvati. You will reach reverential Kedarnath, thought to be the abode of Lord Shiva, as your final stop.
Day 5: Kedarnath to Badrinath
Venturing through the sacred Chardham pilgrimage route culminates in a visit to Badrinath, believed to be the home of Lord Vishnu. Start your day with a helicopter tour from Sersi Helipad and revel in the hot springs of Badrinath, along with exploring Mana Village while you take a heritage walk.
Day 6: Return to Dehradun
Finishing the Chardham journey, you will leave Badrinath and fly in a helicopter to Sharastradhara Helipad found in Dehradun. Blueheight Aviation's employee will transfer you to your chosen hotel in Dehradun so you can get your belongings. Then, you may return to Chattisgarh by train, plane, or road. Overnight lodging in Dehradun is also available for an additional fee.
Why Consider Chardham Yatra with Blueheights Aviation?
If you're looking for a safe and enjoyable experience while visiting the Char Dhams, considering an aerial tour with Blueheights Aviation is your best bet. With a team of highly trained and experienced pilots and modern aircraft that are regularly maintained for safety, you can trust them to handle your trip securely.
Blueheights Aviation also provides unparalleled customer service. They offer timely responses to queries or concerns and ensure their client's experience is as comfortable and stress-free as possible. Their commitment to excellence manifests in their competitive rates and an extensive list of services such as private jet charters, air ambulances, etc.
The team at Blueheights Aviation understands the importance of providing a safe and enjoyable Chardham Yatra experience for its customers and works hard to meet these expectations. They consistently prioritize quality service and safety standards which makes them the perfect choice for anyone looking for an enjoyable Char Dham journey by air.
Frequently Asked Questions
Q1. What is the duration of the Chardham Yatra by Helicopter from Guwahati?
A1. The Chardham Yatra by Helicopter from Guwahati usually lasts 7 to 9 days. The travelling time may vary depending on the mode of transport you choose from Guwahati. If you choose to avail of the premium air charter services from Guwahati to Dehradun, you can complete the journey in 6 nights and seven days.
Q2. What important points to consider while planning a Chardham Yatra by Helicopter?
A2. Various important points need to be considered while planning a Chardham Yatra by Helicopter, such as booking tickets in advance; weather conditions; availability of helicopters; safety regulations and precautions; and ensuring that all necessary permits have been obtained before the journey. With Blueheight Aviation, you don't need to worry about many arrangements. Our comprehensive packages are inclusive of accommodations at all the Dhams, transfers, VIP darshans at temples and necessary permits required.
Q3 Can I visit Hemkund Sahib and Valley Of flowers in the Chardham Package?
A3. If you want to visit the Valley of Flowers and Hemkund Sahib while travelling to Badrinath, you should request a customized package. These destinations are not included in the standard itinerary as they need 2 more days to cover. We can make a customized Chardham Yatra By helicopter package for you that will include all the sightseeing you wish to explore but not included in our standard itinerary above.
Q4. Shall I be eligible for a refund in the event of cancellation?
A4. The refunded amount depends on why it was cancelled. We would return the full payment if the cancellation were due to our fault. If you were to end it, a certain amount would be deducted per our company's cancellation policy.
Q5. Is there any limitation on my baggage?
A5. You can only carry 5 kg of baggage on your yacht via Helicopter. If you take laptops and other gadgets, they are also subject to a security check.
Conclusion
The Chardham Yatra by Helicopter from Guwahati is a great way to experience the beauty of the Himalayas and visit some of India's most sacred sites. With Blueheights Aviation, you can be sure that your journey will be safe, comfortable, and stress-free. They offer competitive rates, excellent customer service, and comprehensive packages that include all necessary permits, accommodations, and transfers.
Your Private Charter Journey Starts Here
Subscribe and we'll send the best deals to you