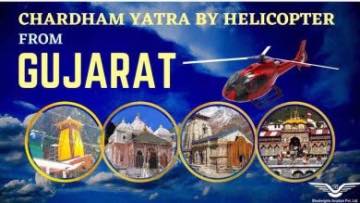 Char Dham Yatra By Helicopter from Gujarat (2023)
Gujarat is known for its most extensive coastline of about 1600 kms with a hint of the desert, stretching out in the Arabian Sea. Referred as the fifth largest state in India in terms of its size, it is also the ninth most populous state in India. With the majority of the Hindu population, every year, hundreds of Hindu Pilgrims visit Chardham Yatra in Uttrakhand to attain Moksha.
Char Dham Yatra is a pilgrimage for Hindus from India to four holy shrines located at Badrinath, Kedarnath, Gangotri, and Yamunotri in Uttarakhand state.
This yatra is considered to be one of the holiest pilgrimages in Hinduism. The pilgrims visit these places during summer (April - November) because the weather here is pleasant. The Winter months in Char Dham lead to heavy snowfall, making it inaccessible.
If you are planning to visit Char Dham, availing of helicopter services is the easiest and shortest way to reach here.
Premier Aviation companies like Blueheight Aviation offer the best Chardham Yatra By Helicopter services to make your journey blissful.
Frequently Asked Questions
What are the advantages of the Chardham Yatra by helicopter?
Chardham Yatra by Helicopter comes with many advantages. The first and foremost one is the reduced travel time. Unlike typical road travel, a Helicopter journey takes significantly less time to cover the Char Dham. Also, VIP Darshan entry is included for the Badrinath and Kedarnath Dham, further speeding up the darshan process.
What is the Age Limit For Kids for Helicopter?
There is no specific age limit for kids or the elderly for Char Dham Yatra. The kids below 2 years are free, But you have to take along the Aadhar card of the child to prove their age status.
What is the correct order to cover the Chardham Yatra?
Yes, there is a specific order to cover the Chardham Yatra, and you must cover it in a particular sequence. Starting from Yamunotri, you should proceed to Gangotri, Kedarnath, and then Badrinath.
Why should you consider Blueheight Aviation for your Chardham Yatra from Gujarat?
Blueheight Aviation is one of the most trusted air charter companies, with over ten years of industry experience. We offer a flexible Chardham Yatra plan for 2022 to accommodate our client's specific requirements. We provide our clients with an entire end-to-end plan to make sure that their trip will be memorable.
If you're looking for the ultimate pilgrimage experience Chardham Yatra by Helicopter by Blueheight Aviation will bring you an unforgettable experience that will be remembered for a lifetime. We broadly cover all four holy places during your journey: Yamunotri, Gangotri, Kedar Nath, and Badrinath.
To Book Your Chardham Yatra By Helicopter from Gujrat, Call Us Now
Itinerary For Chardham Yatra By Helicopter from Gujarat
Here is the detailed itinerary for Chardham Yatra By Helicopter from Gujarat by Blueheight Aviation:
Day 1: Gujarat – Dehradun
There are direct flights from Ahmedabad to Dehradun with an aerial distance of 1,124 km. It takes 1.25 hours to reach Gujrat, with an airplane having an average speed of 560 miles. You can book a direct flight from IndiGo, SpiceJet, Flexflight, Vistara, Air France, and GoFirst to Uttrakhand.
Once you reach the Dehradun airport/railway station, one of our representatives will escort you to your hotel. Blueheight aviation offers a complimentary night stay in Dehradun to passengers who wish for a memorable journey to Chardham.

Day 2: Dehradun to Kharsali
Our first trip to one of the Four Dham is to Yamunotri. Wake up early to an excellent breakfast, and after that, you'll be set for your journey to Dehradun Helipad - Sahastradhara by helicopter. The helicopter will arrive in Kharsali in just 20 minutes. After that, you will be transferred to your accommodation. After lunch, go towards the hot springs in Yamunotri in the afternoon by walking or hiring a palki or a pony. You can also visit the Shani temple before returning to your hotel for a rest.
Day 3: Kharsali to Harsil
The following day, we'll make the trip to Gangotri Dham, famous for being the site of the sacred river Ganga. We'll travel to the Harshil Helipad from the Shastradhara Helipad via Helicopter and to Gangotri temple to mark Dharshan. Along the way, visitors can see the vast apple orchards along the breathtaking landscape of nature. It takes about 50 minutes to get there from The Gangotri Temple by road. The famous Shiv Temple in Harshil's Bagodi Village is worth visiting. Walk along the natural trails to Jhala and trek at Chholmi Village for an enthralling experience.
Day 4: Harsil to Sersi
The next day, you'll head toward Harsil Helipad to get to Sersi to seek the Darshan of Kedarnath Ji. A shuttle service that takes you to Kedarnath Ji is available. It takes about 2 hours to reach Kedarnath Temple. Kali temple, situated in Guptakashi, is an excellent excursion for devotees who wish to explore the places in the vicinity of Kedarnath.
Day 5: Sersi to Badrinath
The devotees are scheduled to depart to Badrinath following the breakfast meal in Sersi the next day. Once landed at Badrinath Helipad, the devotees will be taken to the hotel to check in. After that, they are picked up via vehicle from their hotel to the journey toward the Badrinath temple. Mana village is one of the most sought-after tourist destinations close to Badrinath. Mana village is also referred to as India's last town because of its proximity to the China border.
Day 6: Dehradun
After visiting all four Dhams, it's time to return after treasuring some beautiful memories of your trip. If you've reserved for this year's Maha Abhishek Puja, you should be at the location from approximately 4:30 to 6:30 am at dawn. The time for arriving is Shastradhara at about 9:00 morning. Then, you will be taken to the Dehradun hotel to collect your bags from the cloakroom.
You can choose to take a flight back to Ahemdabad or stay over at Dehradun at an additional cost.
Your Private Charter Journey Starts Here
Subscribe and we'll send the best deals to you