Chardham Tour Package By Helicopter From Chandigarh (2023)
Chandigarh's well-planned architecture hosts many tourist attractions, including the Rock Garden and Sukhrani kingdom. Counted among the best cities to live in, Chandigarh has tree-lined boulevards and tranquil lakes. Considering its holy spirits, every year, hundreds of pilgrims visit Uttarakhand to explore the most divine circuit – Char Dham Yatra.
Char Dham is a pilgrimage circuit covering the four holy Dhams in India, namely Badrinath, Kedarnath, Gangotri, and Yamunotri. These three places are considered sacred by Hindus because they are believed to be the abode of Lord Shiva, Goddess Parvati, Goddess Ganga, and Goddess Yamuna, respectively.
Chardham holds very high importance in Hinduism and is one of the most popular pilgrimages for Hindu devotees worldwide. The Yatra begins from Yamunotri and ends up with Badrinath.
While there are various modes of transportation to visit Chardham, including cars and trains, the best is to see Chardham Yatra By Helicopter. It is the shortest and easiest way to complete your Chardham Yatra.
Blueheight aviation is one of India's premier Chardham helicopter services, offering an unparalleled experience. We have been operating for the last ten years and have completed over 1000 successful trips. Our team comprises highly experienced pilots who know every inch of this route like the back of their hands. They will take care of everything from pick-up and drop at airports to ensuring you reach your destination safely.
Itinerary Chardham Yatra By helicopter from Chandigarh
Day 1. Chandigarh to Dehradun
The distance between Chandigarh and Dehradun is approximately 165 kms. It takes almost 3-4 hours to complete the journey. You can hire a cab or take a bus to Dehradun from Chandigarh. Once you reach the Jolly Grant Airport at Dehradun, our representative will escort you to the hotel for a pleasant overnight stay.
Day 2 Dehradun to Yamunotri
The holy Chardham journey begins in Yamunotri, where you will be able to worship the Hindu river, the Yamuna. You'll take a Helicopter at Shastradhara Helipad situated in Dehradun to get to Kharsali Helipad in Yamunotri. The representative of our company will greet passengers at Harsil Helipad to proceed to the hotel for check-in. After that, you'll leave for the divine Yamunotri Temple Darshan. After returning, it's time to unwind and relax.
Day 3: Yamunotri to Gangotri
The next Dham after visiting Yamunotri will be Gangotri Dham. It is the divine home of the Ganges, the sacred river located in India. The journey will take you to the Harsil Helipad in the early morning, then proceed to check into the hotel. After that, you'll be taken to Gangotri temple, which is 50 minutes away. Once back at the hotel, relax and unwind.
Day 4 The Gangotri-to Kedarnath
After Gangotri, the next dham that follows is Kedarnath. According to Hinduism, the Dham is said to be the residence of Lord Shiva, also known as the 'destroyer.' You'll travel from Harsil Helipad to Sersi Helipad in the early morning. Shuttle service will transport you to Kedarnath Ji for Darshan. In about two hours, you'll dive into spirituality with the profound Darshan of Kedarnath Ji.
Day 5: Kedarnath to Badrinath
It's the last Dham you'll see that has been believed to represent the spiritual home of Lord Vishnu, the creator of the universe. It is possible to board the helicopter departing from Sersi Helipad to reach Badrinath temple. Mana Village is one of the most popular attractions in Badrinath, which is also regarded as the last village in India. After this, the China border starts.
Day 6: Return to Dehradun
After the profound darshan of all of the Dhams now time to go back to Dehradun after cherishing some beautiful memories. The flight departs from Badrinath to Sharastradhara Helipad in Dehradun. Our agent will take you to your Hotel in Dehradun to pick up your luggage. After that, you can board a bus or a private taxi to reach Chandigarh.
You can also opt to stay for an overnight at Dehradun at nominal pricing to relax.
Frequently Asked Questions
Which Dham Should I Visit First?
Chardham Yatra is believed to be covered in a circular motion, and the Yamunotri is the first dham to be covered among all the Dhams to be followed by Gangotri, Kedarnath, and Badrinath.
Is it safe to take a 1 to 7-year-old for Char Dham Yatra?
Although there is no specific age limit for Char Dham Yatra, it is recommended that people between the age of 7 years to 65 years should perform the Char Dham Yatra. But it does not mean that a child less than 7 years cannot travel to Chardham. All you need to be extra prudent while traveling and have to take along all the accessories to make your traveling hassle-free for all the shrines in the shortest possible time.
Is Chardham Yatra By Car Possible?
Yes, you can complete the Chota Chardham Yatra by Car. But you should have good driving skills. There are many sharp turns in the Yatra. It is a very exhausting and time-consuming process as well. Chardham Yatra by helicopter is the best way to cover all four.
Why Should You Book Chardham Yatra by Helicopter via Blueheight Aviation?
Our exceptional Chardham Yatra tour packages let you maximize your trip to Uttarakhand. Chardham Yatra 2022 package by Blueheight Aviation is available at the lowest prices and curated after considering all your requirements and wishes. If you're running short on time, feel Do Dham Yatra instead of Chardham Yatra packages from Chandigarh.
Chandigarh's Chardham Yatra programs will ensure the meeting or exceeding your expectations. Chardham packages from Blueheight Aviation guarantee to deliver high-end services. Because the journey starting from Chandigarh to Uttarakhand is exceptionally exhausting and long, the routes we have planned will have ample time to relax and unwind.
Chardham Yatra via Helicopter
Do you find that time constraints or inability for long road trips delays the Chardham Yatra?
Use your Chardham Tour by Helicopter from Blueheight Aviation to discover the four holy places conveniently. It offers you spectacular sightseeing and an enthralling trek experience. The fantastic views you witness will delight your eyes exceptionally.
Explore and Sightseeing Tours by Chardham Yatra
We offer the lowest-cost tours so that you can participate in Chardham Yatra Darshan and have fun exploring the many places you visit on your trip. If you're visiting from Chandigarh, you'll likely be eager to see some of the most well-known tourist destinations and places near Chardham. We can make special arrangements upon request to visit these places so that your journey is better than ever.
Tailor-made services at Blueheight Aviation
Blue height aviation can provide a custom Chardham Yatra package depending on your needs and preferences. Find a low-cost, budget-friendly, and luxurious Chardham pilgrimage tour with us and experience the most unforgettable trip ever.
You Might Also Like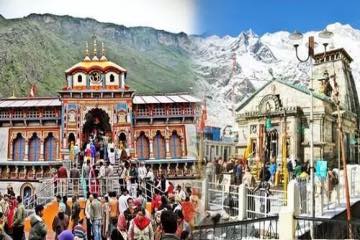 Your Private Charter Journey Starts Here
Subscribe and we'll send the best deals to you