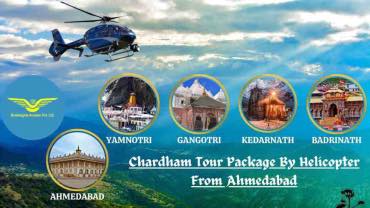 Chardham Yatra Tour Package By Helicopter From Ahemdabad


Also known as a temple town, this UNESCO World Heritage City in Gujarat, Ahmedabad, is soaked in the enthusiasm of Lord Krishna. This beach city's residents often participate in celebrations and embark on a pilgrimage journey to Dwarka. One of the Chardham destinations that comprise Badrinath in Uttarakhand as one of the four prominent Hindu holy places of pilgrimage in India is dedicated to Lord Vishnu. Lord Krishna is believed to be one of the avatars of Lord Vishnu.
Hence, every year Krishna-loving devotees look forward to the darshan of Lord Badri (Vishnu) residing at the famous Chardham pilgrimage – Badrinath. Hence, when the Chardham Yatra opens, enthusiasts from Ahmedabad look forward to exploring this divine yatra to soak themselves in spirituality.
As we know, every year, Chardham Yatra begins in May, so it's time to dive into the holy spirits of Lord Badri – the creator, Lord Shiva – the destroyer, holy Ganga and Holy Yamuna by visiting them under the convenient Chardham Yatra by Helicopter.
Blueheight aviation offers top-notch aviation services in India and has consistently provided high-standard services for spiritual tours. We can offer the finest Chardham tour packages for 2022 to Badrinath, Kedarnath, and Gangotri, along with Yamunotri departing from Ahmedabad. Our packages provide professional services, 24/7 assistance, punctual pick-ups and drops, and accommodation options at the most competitive prices and exclusive offers.
If you're looking for an exemplary CharDham Yatra Experience in 2022, we have the ideal solution!
Let's quickly check out the itinerary for Chardham Yatra Tour Package by Helicopter from Ahemdabad.
Day 1: Ahemdabad - Delhi – Dehradun
You can get a flight from Ahmedabad to Delhi, and from Delhi, you need to board another flight to Dehradun. We can arrange your flight from Ahemdabad to reach Dehradun with utmost convenience. Alternatively, you can choose to board a train from Ahemdabad to reach Dehradun. However, air services are the quickest and most convenient way to travel that saves lot of time.
Day 2: Dehradun - Yamunotri
The holy Yatra begins with visiting the pious Dham Yamunotri - the seat of Goddess Yamuna. You will proceed early morning from the Dehradun helipad - Sahastradhara to Kharsali (helipad for Yamunotri). Janki Chatti is the final road that will take you to the holy Yamunotri temple after a trek /pony/ palki for 7 km.
Day 3: Yamunotri - Gangotri
After enjoying a delicious early morning breakfast, you will head to the Harshil helipad to reach the Khasali, the designated helipad for Gangotri. After that, you will cover approximately a distance of 24 km by cab, enjoying the scenic beauty of nature. You will have a VIP Darshan at Gangotri temple and then return to the hotel to unwind.
Day 4: Gangotri - Kedarnath
Early morning, your Helicopter from Harshil helipad will pick you up to transfer the Service. Guptkashi, Gaurikund and Phata are also the assigned helipads to reach Kedarnath. Then another helicopter will take you to the Kedarnath helipad, which is just 500 meters away from the main temple. You will be allowed for 2 hours to enjoy the dev darshan and pooja. You will be returned to Guptkashi for an overnight stay.
Day 5: Kedarnath to Badrinath
After a 1 hour long journey by Helicopter, you will reach Badrinath helipad, which is 1km away from the main temple. After completing the VIP darshan, you will get back to the hotel to relax. In the evening you may choose to go for some sightseeing. Prominent is the Mana Village, considered the last village of India with proximity to the China Border.
You may also opt to participate in Rudra Pooja the following day, beginning from 4 AM.
Day 6: Badrinath to Dehradun
The final day of the Yatra arrives. Early morning you will reach the Badrinath Helipad to reach Sahastradhara (Dehradun Helipad). Our representative will assist you to the hotel to take the belongings you left at the onset of your Chardham yatra. Then you will be assisted to the flight/train to head back to Ahmedabad safely.
Although your journey to Chardham ends here, the memories you will take along will cherish forever.
Terms & Conditions For Blueheights Aviation Helicopter Services
The passenger shouldn't carry baggage that weighs more than 2 kilograms. The excess weight of luggage will not be accepted on the helicopter.
All children over the age of 2 has a full ticket.
Don't confuse the reporting time and departure time. The reporting time is one hour earlier than the departure time.
Passengers are asked to come into our office wearing a CTT voucher.
The minimum wait time for a traveler is 2 hours, based on the conditions of the weather.
The temples are all in high altitudes, so travelers must carry a medical equipment with them.
There is no restriction or other concessions for children or older adults.
Any additional night of stay due to weather conditions will be the responsibility of the guest the hotel.
Our Services reserves the right delay the time of flight due to weather conditions that are not ideal.
Senior citizens and those with disabilities will be given preference
The duration for passenger darshan is 1hr 30 minutes.
In the helicopter ride, we do not take responsibility for your baggage.
If you take any shortcuts during your trek, we're not accountable for it.
Chardham Yatra Helicopter Packages 2023 would be designed to accommodate passengers in groups of their own. It is however not always feasible at all times to split passengers into groups to allow for weight adjustments.
Important Note:
In the event of a flight being was cancelled or changed due to weather conditions technical difficulties, lack of passengers, or other reasons the passengers will be required to travel on their own, based on the package you purchased, a complete refund will be given. If you have any issues with Char Dham Yatra helicopter services contact us on our support number and our experts will resolve your issue immediately.
Once you book Char Dham helicopter services, we will provide the finest services to ensure you have a relaxing and luxurious experience. In line with the increasing demands of our clients, we have a forte in providing the best helicopter services. Our team of experts regularly communicate with our customers and offer an option to rent a helicopter in accordance with their requirements and purchase these services from us at an affordable price.
Our fleet includes 100+ aircrafts as well as helicopters to ensure that no matter your travel requirement, we have the perfect aircraft for you within the shortest time. To enjoy an unparalleled air charter experience, book on with BlueHeight Aviation.

Why is Chardham Yatra by Helicopter Better than Road Travel?
1) The entire route is covered by helicopters only. It means no traffic jams, no pollution, no noise, no stress, and no worries about getting stuck in heavy rains or snowfall.
2) No need to worry about food, water, accommodation, etc. Our team can arrange all these things.
3) It is very safe and secure because there is no possibility of an accident.
4) We provide excellent service and safety measures so that you do not face any inconvenience during the trip.
5) We offer special discounts for groups and corporates.
Do you still need reasons to book your Chardham Tour Package by Helicopter 2022 with Blueheight aviation?
Why BlueHeight Aviation for Chardham Yatra Helicopter Services?
Blueheight Aviation Services is pioneer in providing Char Dham yatra by helicopter. With over 10 years of experience, our highly customized itinerary are meant to entice the travellers with unparallel Chardham Yatra experience.
Blueheights aviation also provide Private jet charter,Helicopter charter and air ambulance from Ahmedabad
If you still have some concerns or queries, call us now!
You Might Also Like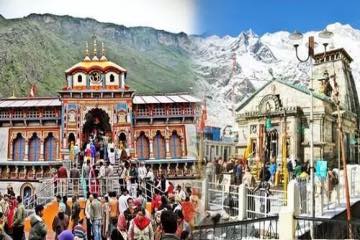 2N3D Helicopter Tour Package
110,000/ pax for charter

Chardham Yatra Helicopter Services
5N6D Helicopter Package
199,000/ pax for charter

Same Day Return
100,000/pax for charter

Kedarnath yatra helicopter services
Same Day
85,000/pax for charter
Your Private Charter Journey Starts Here
Subscribe and we'll send the best deals to you