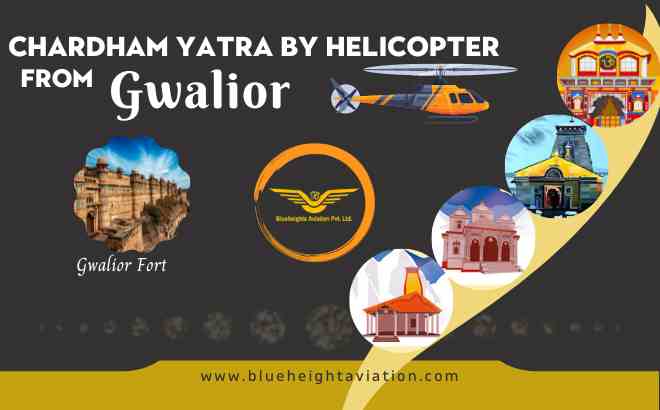 Chardham Tour Package By Helicopter from Gwalior
Price :- 190,000 per person onwards
When it comes to marvelous temples, iconic palaces, and medieval forts, Gwalior, a beautiful city in Madhya Pradesh, takes the lead. The city holds a historical relevance with its rich cultural heritage and is profoundly known as the birthplace of one of the most outstanding musicians, Tansen. Selected among the top 100 cities, Gwalior represents the excellent amalgamation of Bundeli and Braj cultures. Considering its consensus, Gwalior has over 90% of the Hindu population, which makes it one of the promising cities witnessing a massive outflow of devotees for Chardham.
What comprised Char Dham?
Chardham is a holy Hindu pilgrimage comprised of the Yamunotri, Gangotri, Badrinath, and Kedarnath in Uttarakhand. It is believed in Hinduism that Chardham Yatra opens the gate of salvation by washing the lifetime sins of devotees. This pilgrimage is considered the ultimate journey for Hindus. Every Hindu devotee wishes to visit Chardham atleast once in their lifetime.
Beginning from Yamunotri, Chardham Yatra is completed in a fixed circuit as Gangotri, Kedarnath, and Badrinath after that. Kedarnath is considered the most challenging trek among all four dams.
May and June are considered the best time to plan the Chardham yatra owing to its pleasant climatic conditions. Adi Shankaracharya is credited for the formation of the Char Dham Yatra Circuit.
If you are looking for an exceptional Yatra experience, Chardham Yatra by helicopter is the best way. It is the quickest and easiest way to complete the yatra.
Best aviation companies like Blueheight Aviation offer the best Chardham Yatra from Gwalior packages. Let's Check out their itinerary to have more insights:
Itinerary for Chardham Yatra By Helicopter from Gwalior:
Here is a brief on the Chardham yatra by helicopter from Gwalior from Blueheight aviation:
Gwalior to Dehradun
There are no direct flights from Gwalior to Dehradun. You can opt for the connecting flight, which takes around 5 hours to reach Dehradun. The quickest time for a train journey from Gwalior is about 15 hours. Hence, it is recommended to board a flight to make your travel easy and fast. Once you reach the Dehradun airport, an executive from Blueheight Aviation will escort you to the Dehradun hotel to check in. Spend a relaxing day at the Dehradun hotel for a restful overnight stay.
Day 2: Dehradun to Yamunotri
The holy Chardham journey begins from Yamunotri, where you worship the sacred Yamuna river. You will take a Helicopter from Shastradhara to reach Kharsali Helipad at Yamunotri. From Kharsali, Yamunotri temple is just 6 kms away. You can complete the trek by walking or hiring a palki or pony. Head back to Kharsali after completing Darshan at Yamunotri temple. Sightseeing options such as Yamuna Mata Temple, Hot Spring at Yamunotri Temple, and Shani Temple are worth exploring.
Day 3: Yamunotri to Gangotri
Gangotri Dham is the next Dham on the itinerary after Yamunotri. It is dedicated to India's holy river Ganges. Early morning you will leave Kharsali to reach the Harsil helipad near Gangotri. It takes 1 hour to get to Gangotri temple via cab, 25 kms away from the helipad. You can also enjoy the Ganga Arti in the evening at Gangotri. Head back to Harshil to explore the sightseeing with a walk to Bagodi Village, Short Trek to Chholmi, Nature walk from Jhalla and Shiv temple.
Day 4 Gangotri to Kedarnath
Kedarnath is next on the list, which is referred to as the heavenly abode of Lord Shiva. You will leave Harsil to reach Sersi, which is closest to Kedarnath. Then you will board a shuttle flight to Kedarnath for the deity's darshan. A blissful sightseeing to Triyuginarayn mandir is highly recommended at Sersi. The place holds significance for witnessing the celestial marriage of Lord Shiva and Goddess Parvati.
Day 5: Kedarnath to Badrinath
The last dham listed on the itinerary is Kedarnath. You will leave early from Sersi to reach Badrinath temple for Darshan by car. You can also go for Mahabhishek Aarti in the morning for Badrinath. Prominent sightseeings at Badrinath are Mana Village and Hot Springs.
Day 6: Dehradun to Return
After completing darshan to all of the Dhams, it's time to head back to Dehradun, along with some beautiful memories. The flight departs from Badrinath to reach Sharastradhara Helipad in Dehradun. Our agent will take you to your Hotel in Dehradun, where you can pick up your bags (left in the cloakroom at the beginning of Chardham Yatra). Time to head back to Gwalior via flight or train at your discretion.
For a small fee, you can choose to stay overnight in Dehradun.
Why Consider Blueheight Aviation for Chardham Yatra?
Blueheight Aviation is a one-stop solution for an exceptional Chardham Yatra by Helicopter experience. With over 10 years of Industry experience, Blueheight is known for its impeccable customer service and competitive pricing. The comprehensive Chardham Yatra packages at Blueheight aviation include hotel stays and transfers.
Frequently Asked Questions
What essentials do I need to carry to Chardham Yatra?
One should carry essentials like Photo ID proof, Clothes, a Camera, Water Bottles, First Aid Kits, Trekking Shoes, Mobile chargers, snacks, and dry fruits to make the Yatra an exhilarating affair.
What is the best way to Plan Char Dham Yatra?
Chardham Yatra By Helicopter is the best way to plan char Dham Yatra by Helicopter. It takes just 5 days to complete the yatra. On the other hand, Chardham Yatra by road is tedious and takes around 10-12 days to complete. Chardham Yatra by Helicopter is very convenient for children and elderly people as well.
Can I Complete Chardham Yatra By Helicopter in a day?
No! It will be highly stressful to complete all the char dhams in one day. Chardham Yatra packages have been suitably designed so devotees can make the most of their trip to each Dham.

What is the cost of the Chardham Yatra By Helicopter cost?
Several factors govern the cost of your Chardham Yatra. Connect with us to get the most competitive prices and enjoyable Chardham Yatra experience.
Price - 190,000/- per person
So what are you waiting for? Book your Chardham Yatra by Helicopter from Gwalior now!
You Might Also Like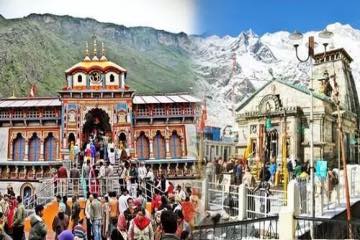 Your Private Charter Journey Starts Here
Subscribe and we'll send the best deals to you