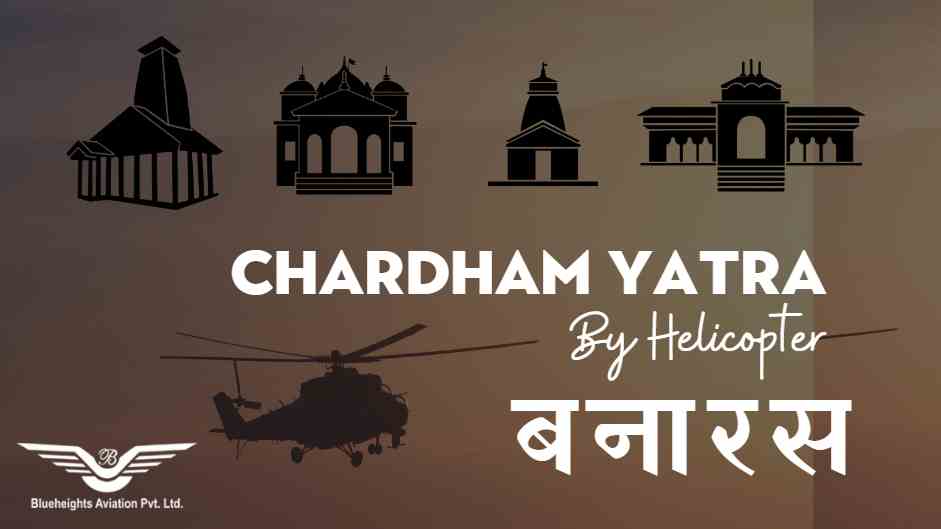 Best Char Dham Yatra Package- From Varanasi By Helicopter
Embark on a holy and spiritual journey with the Chardham Yatra package from Varanasi by helicopter. Explore India's most sacred places in comfort, convenience, and affordability and deepen your relationship with spirituality!
Chardham yatra by helicopter Packages - Overview and Prices.
Our Chardham yatra by helicopter packages offer the best of convenience and comfort at a great price. With unbeatable flight time, comfortable seating arrangements, and high-end amenities, we provide the full package to make your experience memorable. Package prices depend on number of passengers but include hotel accommodations, food allowances, local guide services and more! Testimonials from previous satisfied customers speak highly of our service!
As part of our Chardham yatra by helicopter packages, you can enjoy comfortable seating arrangements in twin-engine and multi-engine helicopters with the latest avionics technology. Meals are provided during the entire duration of your journey, including light refreshments to keep you going strong! Furthermore, experienced experts will guide you through the sights and help with your accommodation when needed. All this at an amazingly cheap price! Book with us today and let us take you on a pilgrimage you won't forget!
| | |
| --- | --- |
| Chardham yatra Packages | Cost Per Person |
| Char dham yatra by helicopter ex dehradun | 190,000 |
| Chardham Yatra by helicopter ex varanasi | 190,000 + flight |
| Do dham yatra by helicopter Ex dehradun / Haridwar | 95,000- 130,000 |
History of Varanasi and chardham yatra - their spiritual connection
Varanasi, also known as Kashi, remains one of the most spiritually significant cities in India. With a long and rich history deeply rooted spiritual traditions, it has an aura that is unmatched by any other city in India. As such, Chardham Yatra from Varanasi presents pilgrims with a unique opportunity to connect with their faith on a deeper level. Visitors can immerse themselves in the culture and atmosphere of this ancient place while making progress in their spiritual quest by visiting four of the most sacred pilgrimage sites in India.
Varanasi has a layered history, with many faiths having contributed to its sacred landscape. The city played an important role in both Buddhism and Hinduism, and remains a key centre of trade and pilgrimage. Perhaps most famously known as the home of spiritual guru Kabir Das, Varanasi has seen hundreds of well-known spiritual figures walk its streets over time. More recently, it is also the birthplace of Tulsidas, who wrote the Ramcharitmanas - one of the most beloved scriptures in India. Through Chardham Yatra from Varanasi you can get a glimpse into this rich cultural heritage while having your faith strengthened by visiting some of the holiest places in India.
Chardham yatra by helicopter- Itinerary and Hotel Ex Dehardun
Our Varanasi Chardham Yatra from Varanasi package by helicopter consists of 6 days and 5 nights. The itinerary includes trips to Yamunotri, Gangotri, Kedarnath and Badrinath. We also offer accommodation in top-rated hotels in Dehardun , Kedarnath and Badrinath. Along the way you can take part in various activities including trekking and setting up camp for a few nights. Be sure to pack light for this journey as there will be some times when you must carry your own belongings
Day 1: Varanasi to Dehradun
Fly from Varanasi Airport to Dehradun Airport in 50 minutes. A train from Varanasi to Dehradun is also an option. However, this takes longer and can be tiring. To save time, we recommend flying from Varanasi to Dehradun.
To embark on a pleasant journey in Chardham, arrive at Dehradun. Blueheight provides a complimentary overnight stay in Dehradun. We can arrange for your hotel transfer and assist you with the check-in process. We can also provide a duffel bag to allow you to carry the essential items while keeping the rest in the cloakroom.
Day 2: Dehradun to Kharsali
Yamunotri is our first stop among the four Dhams. After a hearty breakfast, you will be ready to take off for the Dehradun Helipad to land at Sahastradhara helipad. In approximately 20 minutes, you will reach Kharsali and be transferred to your hotel. Enjoy a delicious lunch before heading to Yamunotri's hot springs via pony, palki, or trek. The Shani temple can be visited, and you will return to your hotel for some rest.
Day 3: Kharsali to Harsil
We will then head to Gangotri Dham the next day, which is known for its origins of the holy Ganga. To reach the Gangotri temple for Dharshan, you must cross the Harshil. You will pass the beautiful apple orchards along the way. The Gangotri Temple can be reached by road in approximately 50 minutes. The Shiv Temple in Harshil and Bagodi Village Walks, a Nature Walk to Jhala, and a short trek up to Chholmi village are all available.
Day 4: Harsil to Sersi
You will fly to Harsil Helipad to reach Sersi Ji Darshan the next day. Kedarnath Ji is accessible by a shuttle flight. Darshan at Kedarnath Ji takes approximately two hours. Devotees will find Kali temple in Guptakashi a great sightseeing choice.
Day 5: Sersi to Badrinath
After a wholesome breakfast at Sersi, devotees will depart for Badrinath. The passengers will then be transferred by car to the temple from the hotel. Mana village is a popular sightseeing option around Badrinath. Because of its proximity to China, it is often called the "last village in India."
Day 6: Dehradun
It's time for you to leave after visiting the four dams. Pre-booked Maha Abhishek Pujas requires you to arrive between 4:30 and 6:30 in the morning. Shastradhara will be open at 9:30 am. You will be taken to the hotel to collect your luggage from Dehradun's cloakroom. You will be taken to the railway station or airport to board your flight to Varanasi.
At the client's discretion, Blueheight aviation can arrange flight tickets or Private jet charter services from Dehradun to Varanasi.
| | |
| --- | --- |
| Destination | Hotel |
| Dehardun | Fair field by Marriot / Hyaat regency |
| Kharshali | Yamuna Kriti or Kalindi Hill top |
| Harshil | Himalayan Nature Resort / similar |
| Guptkashi or Kedarnath Top | Kedar kantha resort or char machan or Punjab sind house at kedarnath |
| Badrinath | Lords palace |
Places to see at Yamunotri, Gangotri, Kedarnath & Badrinath
As part of your Chardham Yatra package from Varanasi by helicopter, you can expect to explore a range of spiritually significant sites. From the romantic serenity of Yamunotri to Gangotri which marks the source of the River Ganga, exploring these holy places with ritualistic precision is a once in a lifetime experience. The Kedarnath temple and Badrinath complex offer stunning views and even more spiritual opportunities for those willing to undertake the trek. Book your Chandham Yatra package today!
Yamunorti is a revered place in the Shivalik ranges of Garhwal, where one can partake in religious customs at the Surya Kund, Saptarishi Kund and Divya Shila. After that, close to river Ganges lie the pristine valley at Gangotri, where one can take a holy dip and also pay obeisance to Lord Shiva's shrine. As part of your package tour do not miss Narad Kund, Bhagirathi River and Kashi Vishwanath Temple on top of the snow clad peak. Traveling further north you will explore Kedarnath temple which is situated atop Garhwal Himalayan region with captivating scenery all around. The last stop Badrinath site has surreal beauty near Alaknanda River with plenty of hot springs nearby like Tapt Kund and Mana Village nestled among lush green meadows. Experience all this exquisite beauty on this package trip today!
Book Experiences in Each Location Ahead of Time
Making sure you're booking experiences in each of the locations ahead of time is key for a successful Chardham Yatra package from Varanasi by helicopter. Look into rituals and activities offered at each destination so that your journey is memorable and meaningful. Booking spa experiences, yoga classes, or temple tours and privileged access to tourist hotspots can be part the ultimate holy experience on your trip! Get ready for an unforgettable adventure!
Your Private Charter Journey Starts Here
Subscribe and we'll send the best deals to you