Why Use Private Jet Charter For Your Business?
Jun 03, 2023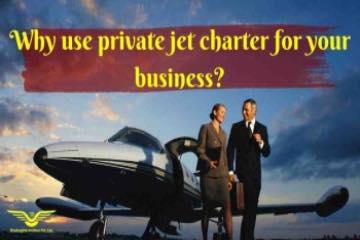 Business Jet Charter has gained a lot of popularity in terms of business. When we talk about the importance of hiring a private jet, it includes various components in our mind such as comfort, convenience, luxury as well as privacy.

Flying is the most convenient way to travel in business. When it comes to sales, meeting or conferences, the company often needs its employees to be present at the given time. If the employees didn't come on time, then it can affect the business.
But these problems can be solved if you hire business jet charter service. Hence the availability of private jet charter India is making the businesses irrespective of all sizes to project images of success and ability to compete with their competitors.
Why use Private Jet Charter for Business?
Most of the times, individual businesses or start-ups people prefer to hire private jets. They simply hire as per their preference. Apart from that, some of the entrepreneurs prefer to rent private jet just to save time, money and efforts which they can invest in other business activities. Having said that let us check out some of the top reasons on why you need to use private jet charter for business.
Hire a Private Charter for all the commercial needs
In Blue heights Aviation, we offer a wide range of services which can fulfil all such private flights requirements. Whether it is senior executives to group charter for conferences, group meeting as well as other company events or private charter for a small group of activities. We always ensure our customers to offer the best helicopter charter India and that too in affordable rates. Our business jet charter will provide our customers with the serene environment which is best to schedule meetings with business partners or various tasks related to business.
We offer safety
It's obvious that your safety of your business team and employees. As your company is completely responsible to get your team from one place to another in a business jet charter, you need to be assured about the safety priority. Safety is something which is often taken as granted
We in Blue Heights Aviation, we collect all the details about the passengers and you will be flying with a crew examined by a team of experts. Our experts will brief the crew based on your preferences as well as company policies.
Fly with ease for various purposes
Whether it is a tour, roadshow, or business trip, finding a private charter sometimes becomes challenging. Private jets help in planning a specific schedule as per the convenience of your conference or meetings. One of our Account Managers will be selecting private flights for you which ensure that you will reach your destination safely.
In Blue Heights Aviation, we have multi-leg charters which can help you reach various numbers destinations. We have a large variety of business as well as private aircraft which will ensure you to have a safe journey.
It's a time-saving experience
One of the significant reasons to hire a business jet charter is to save your valuable time. Depending on your plan, you can hire a private jet in just a few hours. We will get your flight-ready. And in the meantime, you can arrive at the airport just before the departure time. We will help you to fly to your scheduled destination without any sort of layovers. This will help to reduce time and avoid an overnight stay in a hotel or even waiting for hours at the airport. So all these things can help in significant time-saving experience and help you to give some extra efforts in some other productive activities.
Professional Service
At Blue Heights Aviation we offer rigorous training to our experts at industry-oriented flight safety institutions. On the other hand, our customer service teams are available for you at your service. This will ensure you to have peace in mind and help you get a premium experience that can also impress your prospective customers or business partners.
Privacy
You can conduct meetings or conferences and use your time in a much productive way without any sort of worry. The overall time of your travel will be less visible when you are in your business jet charter. Hence to help you in preserving your privacy all throughout the important deals as well as negotiations is our prime concern.
Quality Service
Blue Heights Aviation offers its customers quality services that involve high-quality furnishings, individual attention, enough space as well as the customers' preferred food and beverages as ordered.
Reduced Stress
When you rent a private jet, you do not have to wait in a queue. And there is no chance of the loss of luggage or delay concerns as well as security issues. Hence you will be enjoying a stress free journey. Once you get your work done, you can spend the rest of the time with your family or friends.
Conclusion
From reading these, it is clear that business jet charter choices will actually help your organization in numerous ways such as reduced stress, flexibility, or quick access to business partners or clients. Blue Heights Aviation offers you all the benefits mentioned above which in turn will make your employees happier.

You May Also Like
10 Private Jet Charter Myths Exposed | Blueheights Aviation
All You Need to Know About Private Jet Etiquette
First Time flyers Guide to Private Jet Charter
Can a private jet land at a commercial airline airport?
5 Must know Private Jet Etiquettes
Your Private Charter Journey Starts Here
Subscribe and we'll send the best deals to you